Gondophares
From Academic Kids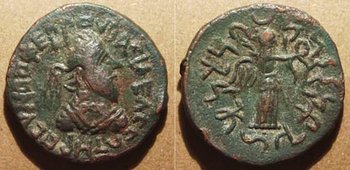 Gondophares (Gudapharasa on his coins) was the first king of the Indo-Parthian Kingdom. He seems to have ruled from AD 21 for at least 26 years. He took over the Kabul valley and the Punjab area from the Kushan king Kujula Kadphises. The extent of his territory is indicated by the distribution of 19th-century finds of his coins. He assumed the Hellenistic title autokrat˘r that was adopted by his Arsacid rivals to the West.
St Thomas
Gondophares is associated to St Thomas in early Christian traditions embodied in the Acts of Thomas. In that miracle-filled romance Thomas was sold in Syria to Habban, an envoy of Gondophares, and travelled in slavery by sea to India, was presented to Gondophares, and undertook the erection of the building the king required. Passing on to the realm of another king, named in the Syriac versions "Mazdai" (compare Mazda), he allegedly suffered martyrdom, before being redeemed. St Thomas thereafter went to Madras and founded the Indian Orthodox Church.
The fanciful legendary material of much of the Acts, as well as some unmistakable non-orthodoxy in its theology, made its historicity dismissable for many centuries. Then in 1854 General Alexander Cunningham reported (Journal of the Asiatic Society of Bengal vol.xxiii. pp.679-712) that since the British had been in Afghanistan an estimated 30,000 coins bearing Greek and Indian legends, had been found in Afghanistan and the Punjab covering three centuries after the conquests of Alexander. Other coins were minted for Scythian conquerors and for Parthian kings such as Gondophares, who thereby emerged from pious legend into history (Medlycott 1905).
Chronology
On the coins of Gondophares, the royal names are Parthian but the other legends of the coins are in Greek and Indian Pali. A votive inscription of the 26th year of Gadaphara or Gondophares, found on a stone at Takht-i-Bahi, northeast of Peshawar with a date of Samvat 103, but of an unspecified era-reckoning. The Malva or Vikrama era of BCE 57 would give a date of 21 for his accession. The stone was formerly in the museum at Lahore. The point is especially important for those Christians who consider that a germ of history is imbedded in the Acts of Thomas.
The Indo-Parthian kingdom with its capital at Kabul barely lasted one century. It started to fragment under Gondophares' successor Abdagases I. The eastern part was conquered by the Kushans around 75 AD.
After that point the kingdom was essentially restricted to Afghanistan. The last king Pakores (AD 100 - 135) only ruled Sakastan and Turan.
Coin types
| | | | |
| --- | --- | --- | --- |
| Gondophares on horseback, with Zeus. | Gondophares on horseback, with Zeus, "Sanas" title and trisula symbol. | Gondophares on horseback (missing), with Zeus and Nike standing on right hand. | Gondophares on horseback (missing), with Athena. |
| Head of Gondophares, with Athena. | King on horseback, Nike flying behind him with a wreath, with Shiva. | | |
See also
External link