Geronimo
From Academic Kids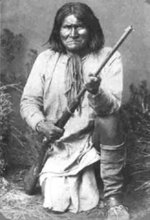 Geronimo (Chiricahua Goyaałé 'One Who Yawns'; often spelled Goyathlay in English), (June 16, 1829–February 17, 1909) was a prominent Native American leader of the Chiricahua Apache who long warred against the encroachment of settlers of European descent on tribal lands.
Biography
Missing image
Chiricahua_Apache_Geronimo,_as_US_prisoner.jpg
Geronimo was born in what is now the state of New Mexico and according to the maps of the time was part of Mexico, but which his family considered Bedonkohe Apache land. Geronimo himself was a Chiricahua Apache. He grew up to be a respected medicine man and an accomplished warrior who fought frequently with Mexican troops. Mexican bandits massacred some of his relatives in 1858, and as a result he hated all Mexicans for the rest of his life. His Mexican adversaries gave him the nickname of "Geronimo", the Spanish version of the name "Jerome".
Missing image
Ta-ayz-slath,_wife_of_Geronimo,_and_one_child.jpg
Geronimo fought against ever increasing numbers of both Mexican and United States troops and became famous for his daring exploits and numerous escapes from capture. His forces became the last major force of independent Indian warriors who refused to acknowledge the United States Government in the American West. This came to an end on September 4, 1886, when Geronimo surrendered to United States Army General Nelson A. Miles at Skeleton Canyon, Arizona.
Geronimo was sent in as a prisoner to Fort Pickens, Florida. In 1894 he was moved to Fort Sill, Oklahoma. In his old age Geronimo became something of a celebrity, appearing at fairs and selling souvenirs and photographs of himself, but not allowed to return to the land of his birth. He rode in President Theodore Roosevelt's 1905 inaugural parade. He died of pneumonia at Fort Sill.
Geronimo as Medicine Man
Below is an account of a Chiricahua boy's memory of attending a healing ceremony by Geronimo:
"The first ceremony by Geronimo I saw was one for an older man. Some coyote or dog had made him sick. One boy got hold of the news that the ceremony was going to be held, and we learned of it through him. We asked Geronimo if we could attend. He said it would be all right but told us we could not scratch ourselves or make any noise.
"The ceremony began in the evening, as soon as it became dark. It took place in an arbor outside Geronimo's home. There was a fire. Geronimo and the patient were on the west side of the fire. Geronimo sat facing the east, and the patient lay stretched out before him. Some older people were there. They were mostly relatives of the sick man. But it would have been all right for anyone to come in and watch. We sat in a circular fashion in the back of the shelter. But the space to the east was left open, as always happens at a ceremony.
"Geronimo had an old black tray basket before him filled with the things he used for the ceremony. He had a downy eagle feather in it and an abalone shell and a bag of pollen. All these things were wrapped up in a bundle before the ceremony began.
"He rolled a cigarette and puffed to the directions first of all, beginning with the east, puffing just once to each direction. Then he threw the cigarette away. After smoking, he rubbed the patient with pollen. He dropped pollen on the patient, just on certain parts of the body. He prayed to the directions as he did this. These prayers referred to Coyote and were on the same order as the songs which followed.
"He started to sing. There were many songs, and the songs were about Coyote. They told how Coyote was a tricky fellow, hard to see and find, and how he gave these characteristics to Geronimo so that he could make himself invisible and even turn into a doorway. They told how the coyote helped Geronimo in his curing. Geronimo accompanied his singing with a drum which he beat with a curved stick. At the end of each song he gave a call like a coyote.
"When the evening star was halfway between the horizon and the zenith, Geronimo stopped singing. This is the Chiricahua midnight. The ceremony lasted four nights. The same prayers, songs, and procedure were gone through for the four nights. I know that Geronimo had ghost power too. That night he told some of the boys that he was going to give another ceremony for a patient on another night, this time for ghost sickness, and that they might attend if they would promise not to scratch themselves."
(Opler 1941: 40-41)
Geronimo in popular culture
Geronimo is a popular figure in cinema and television. He has appeared in many films, including:
He appeared in 1979 film Mr. Horn, despite never having met Tom Horn. He also appeared in the 1993 telefilm Geronimo, Gunsmoke: The Last Apache, the 1990 reunion movie of television series Gunsmoke, and the 1966 West German film Geronimo und die Räuber. The 1976 film I Due superpiedi quasi piatti features a character who believes himself to be Geronimo. The anime television series Ultimate Muscle: The Kinnikuman Legacy features a highly stereotyped native wrestler, based loosely on the historical figure.
In 1940, the night before their first mass jump, U.S. paratroopers at Fort Benning saw a film about Geronimo, and began shouting his name during jumps, a trend which has caught on elsewhere.
Missing image
Geronimo-Apache.jpg
The Apache Software Foundation named a Web Application Server after this Indian leader, see Geronimo Application Server.
External links
Geronimo (http://college.hmco.com/history/readerscomp/naind/html/na_013300_geronimo.htm) - Brief biography
Geronimo : His own story (http://odur.let.rug.nl/~usa/B/geronimo/geronixx.htm)
Geronimo at Indians.org (http://www.indians.org/welker/geronimo.htm)
Goyakla (http://thegoshinyamajujutsuandcomputerclub.netfirms.com/godhacla.htm)
New York Times obituary (http://www.nytimes.com/learning/general/onthisday/bday/0616.html)
Missing image
Geronimo_director_of_homeland_security_2.jpg
Image:Geronimo director of homeland security 2.jpg

Missing image
Geronimo_director_of_homeland_security.jpg
Image:Geronimo director of homeland security.jpg



Gear featuring Geronimo (http://www.shovelbums.org/cgi-bin/store/products.cgi/geronimo) as "The Original Director Or Homeland Security - Fighting Terrorists Since 1492"
Bibliography
Opler, Morris E.; & French, David H. (1941). Myths and tales of the Chiricahua Apache Indians. Memoirs of the American folk-lore society, (Vol. 37). New York: American Folk-lore Society. (Reprinted in 1969 by New York: Kraus Reprint Co.; in 1970 by New York; in 1976 by Millwood, NY: Kraus Reprint Co.; & in 1994 under M. E. Opler, Morris by Lincoln: University of Nebraska Press. ISBN 0-80328602-3).
Pinnow, Jürgen. (1988). Die Sprache der Chiricahua-Apachen: Mit Seitenblicken auf das Mescalero [The language of the Chiricahua Apache: With side glances at the Mescalero]. Hamburg: Helmut Buske Verlag.
da:Geronimo de:Geronimo es:Gerónimo fr:Geronimo (Apache) it:Geronimo (Capo Apache) nl:Geronimo ja:ジェロニモ pl:Geronimo tr:Geronimo sv:Geronimo