Georgi Dimitrov
From Academic Kids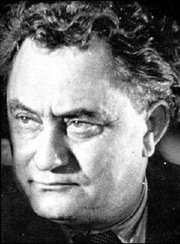 Georgi Mikhailov Dimitrov (Георги Димитров, also known as Georgij Mikhailovich Dimitrov) (June 18, 1882 - July 2, 1949) was a Bulgarian Communist leader.
A revolutionary from boyhood, he was a leader in the 1923 Communist uprising against Alexander Tsankov. When it failed, he fled Bulgaria and continued to work for the Communist cause. In 1933 he was arrested in Berlin for alleged complicity in setting the Reichstag on fire. Dimitrov's cool conduct of his defence and the accusations he directed at his prosecutors won him world renown. He was acquitted and went to the USSR, which conferred citizenship upon him. Dimitrov was secretary-general of the Comintern from 1934 until its dissolution in 1943. In 1944 he returned to Bulgaria to head the Communist party there, and in 1946 he succeeded Kimon Georgiev as premier while keeping his Soviet citizenship.
In 1946, under pressure from Joseph Stalin, Dimitrov started the process of forceful Macedonification of Pirin Macedonia in anticipation of the future incorporation of the region into the Yugoslav Republic of Macedonia. The falling out between Stalin and Tito in 1948 prevented the cession of Pirin Macedonia and the negotiated admission of Bulgaria as a republic into the Federal People's Republic of Yugoslavia (FPRY). Dimitrov died in Moscow in 1949, while undergoing medical treatment.
He was followed by Todor Zhivkov.
External Link
---
Georgi Dimitrov is also the name of a Bulgarian composer.bg:Георги Димитров (политик) de:Georgi Michajlow Dimitrow fr:Georgi Mikhailov Dimitrov ja:ゲオルギ・ディミトロフ mk:Георги Димитров nl:Georgi Dimitrov pl:Georgi Dymitrow sv:Georgi Dimitrov