George Costanza
From Academic Kids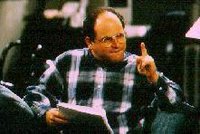 George Louis Costanza is a fictional character on the US television sitcom Seinfeld (1989-1998) played by Jason Alexander.
George was Jerry Seinfeld's neurotic best friend. He sometimes lived with his parents, Estelle and Frank Costanza, a bitter couple who were almost as neurotic as their son. As a teenager, he was tormented by his gym teacher, who called him "Can't Stand Ya." George and Jerry attended public school together, setting the dynamic for their later relationship. George claims that he and Jerry met in gym class when George, climbing rope, fell on Jerry. But in a few episodes, it's hinted at that Jerry and George may have been friends before high school.
George has numerous psychological problems, including: habitual lying, low self-esteem, sudden fits of anger, impulsive acts of ill-considered genorosity, cheapness, selfishness, living in fantasy and a codependent friendship with Jerry. Like Kramer, he would often concoct elaborate plots to weasel out of relational, financial, or legal obligations, always with unexpected and negative consequences.
It is said that the character of George is based partly on the show's co-creator, Larry David. In the first couple of seasons, George was restrained by the standards of his later actions. But as the series went on, he became more outlandish with schemes and with his personality.
Over the series, George had a number of recurring fears and obsessions, including baseball, pretending to be financially succesful, contracting lupus, and dating Marisa Tomei.
George's professional life was unstable and he was unable to remain in any job for any great length of time before making an embarrassing blunder and getting fired. Over the course of the series he worked for the New York Yankees, an industrial smoothing company, and countless other places. He was fired from his job at Pendant Publishing for having sex with the cleaning woman. His original job when the series started was as a real estate agent; he ended up getting fired after he slipped his boss a mickey. His dream job was an architect, a job he would often pretend to have. In one episode, George lied to his girlfriend and claimed he was a marine biologist.
George briefly gained experience as a sitcom writer as he helped Jerry to write the pilot for the fictitious show Jerry. While pitching the concept of a show about nothing to NBC executives, George claimed to have written an off-Broadway play entitled La Cocina, about a Mexican chef named Pepe. In La Cocina, George claimed Pepe mimed the preparation of tamales and it was the mime aspect that made the play so funny.
George's alter ego, Art Vandelay, first appeared in the episode "The Stakeout", when George and Jerry needed an excuse to a woman on why they were waiting in the lobby of the office building she worked at. Their excuse was that they were meeting Art Vandelay, the importer/exporter, for lunch. His original name, before George changed it at the last minute, was Art Corvelay.
For a period George was engaged to Susan Biddle Ross, a wealthy woman who used to be one of the executives at NBC who OK'd Jerry and George's show-within-the-show sitcom pilot. She was indirectly killed by George, who selected the cheapest envelopes (not knowing they contained toxic glue) for their wedding invitations. Susan's parents never forgave him for this, and appointed him to the Board of Directors of the Susan Biddle Ross Foundation to keep him trapped in their influences.
George had an unusual affinity for velvet. When he was dating a woman who had velvet-covered furniture but lived with a man named Scott, he desired to replace Scott so that he could be "ensconced in velvet". His scheme had unintended consequences, because when Scott moved out, he took all the furniture (complete with the velvet) with him. In another episode, George stated that if it were socially acceptable he would "drape" himself in velvet. He dated a woman who had absolutely no interest in physical appearances, so he started wearing a velvet jogging suit.
George Costanza moments
Taking up smoking so that his fiancee Susan Ross would call off the wedding, but the cigarettes caused him to cough and vomit
Inventing a fictitious company named "Vandelay Industries" where he said he had a job interview, in order to keep getting his unemployment benefits. The company was run by the fictitious Art Vandelay. Vandelay Industries is, according to George, a latex manufacturing company based out of Jerry's apartment. Art Vandelay was also an importer/exporter as well as an architect. The judge in the final episode of the series was named Art Vandelay, which George interpreted as a "good sign".
Passed an incomplete IQ test through an open window to Elaine in order to cheat on it, all with his one-time girlfriend on the other side of the door. He did this so she'd think he was smarter than he really was. Elaine ends up getting a worse score than George would have if he hadn't cheated.
Proposing a sexual relationship with his cousin to get his parents' attention, which she agreed to.
Wearing Kramer's father's wedding band to get women to hit on him. It worked, but none of the women wanted a married man.
Telling Susan that he was meeting Elaine Benes to discuss problems about her (made-up) boyfriend Art Vandelay when he actually was meeting Marisa Tomei. George and Elaine failed to develop the story enough and Susan suspected George was having an affair with Elaine.
Calling Marisa Tomei on the eve of Susan's funeral to arrange a date: "I got the funeral tomorrow but... my weekend is pretty wide open".
Leaving his car parked at Yankee Stadium so that George Steinbrenner would think he was there working even when he wasn't. Other escapades while at the Yankees included: turning the space underneath his desk into an area suitable for napping, pretending to be stressed in order to avoid work, and, after masquerading as a communist in order to date a woman whose personal ad appeared in the Daily Worker newspaper.
Getting ensconced or draped in velvet.
Buying a car solely on the belief that it was once owned by Jon Voight.
Faking a handicap so that he could get his own private bathroom at work.
Trying to get money back for a book he read in a bookstore bathroom. He was forced to pay for it because the book was "flagged" at all the area bookstores.
Recording a telephone message, and singing it to the tune of the hit song "Believe it or Not" (from The Greatest American Hero). The message is sung this way:
Believe it or not, George isn't at home
Please leave a message after the beep
I must be out or I'd pick up the phone
Where could I be?
Believe it or not, I'm not home.
Trying to get the Frogger game to his house from Mario's Pizzeria, where he and Jerry used to hang out when they were younger. The game is running on batteries, because George wants to preserve his score on the console (the highest all-time score on the Frogger machine featured on the show was recorded by "G.L.C.", which were his initials). Unfortunately, while George tries in vain to get the console to the other side of the street after performing a series of maneuvers resembling the game itself, a truck destroys the machine, after which Jerry remarks, "Game over".
Continuing to use the name Art Vandelay until the show's final episode, when a judge by that name presides over the trial of the "New York Four", in which the defendants broke the Good Samaritan Law in the fictional town of Latham, Massachusetts. Jerry and George take it as a sign that they will be acquitted, but after a swarm of previous guest characters (from Marla the Virgin to the parents of Susan Biddle Ross) testify against the four friends, Judge Vandelay sentences George, Jerry, Kramer and Elaine to one year removed from society.
Demanded that an area hospital pay for his damaged car after a person landed on it after jumping off of the roof.
Tried to convert to Latvian Orthodox religion in order to keep a girlfriend. Told priest that the reason for his conversion was the nice hats worn by the clergy.
Was supposed to read the book Breakfast At Tiffany's for a book club his girlfriend set him up with, but decided to rent the movie instead. When he realized the movie was checked out, he got the address of the people who had checked it out and was allowed to watch the movie with them. That is until he spilled grape juice on their couch.
Pretended to have severe eyesight problems so that he could get a certain textbook on tape, his reasoning being that whenever he reads a book he hears his own voice reading the words. But when he gets the tape, he realizes the narrator sounds exactly like him.
Developed back problems because of his oversized wallet. The wallet finally exploded out in the street.
Competed for an apartment with an SS Andrea Doria survivor by telling the board about his horrifying life. He lost the apartment to a boyfriend of Elaine's who had paid the super $50.
Was briefly employed as a hand model before he burned his hands on an iron.
Agreed to play Trivial Pursuit with Donald the Bubble Boy in upstate New York. Got in a fight with Donald when George insisted the answer was "Moops" but Donald said it was "Moors" (the card was a misprint). Susan ended up deflating the Bubble Boy and George was accused of trying to kill Donald.
Tries to become friends with a black man to prove to a co-worker that he's not racist.
Performs a series of stunts at Yankee Stadium, such as wearing Babe Ruth's jersey, streaking across the field in a body suit and wrecking the team's 1996 World Series trophy with his car. He does this in an attempt to make Steinbrenner fire him so he can take a job offer from the New York Mets. In the end, Wilhelm is fired instead, and he gets hired by the Mets.
Claimed to have won "the contest."
Attended anger management sessions at the request of his friends, but the fact that the coach wanted him to hide his anger angered him too much to continue. Incited a participant at a Rage-aholics meeting by refering to him as a pinhead.
Elaine helped George get a job at Pendant Publishing. Elaine's boss Mr. Lippman conducted an impromptu job interview with George, asking him what authors he liked. Pressed for specifics, George mentioned he liked Art Vandelay. According to George, Vandelay was an obscure beatnik writer who wrote Venetian Blinds.
Crashed a baby shower to confront an ex-girlfriend who threw Bosco on George's red shirt during a performance.
Famous George Costanza quotes
"I am speechless, I have no speech!"
"Why do I get pesto? Why do I think I'll like it? I keep trying to like it, like I have to like it."
"Everybody likes pesto. You walk into a restaurant, that's all you hear - pesto, pesto, pesto."
"Where was pesto 10 years ago?"
"No, no, I don't think I'm special. My mother always said I'm not special."
"George is getting upset!"
"No one gives us the finger. We're Yankees!"
"My name is George. I'm unemployed and I live with my parents."
"You know, we're living in a society!"
"Lupus? Is it lupus?"
"Jerry, just remember: It's not a lie if you believe it."pt:George Constanza