Fructose
From Academic Kids
Fructose is a simple sugar (monosaccharide) found in many foods and one of the three most important blood sugars along with glucose and galactose. Honey, tree fruits, berries, melons, and some root vegetables such as: beets, sweet potatoes, parsnips and onions, contain fructose; usually in combination with sucrose and glucose. Fructose is also derived from the digestion of sucrose, a disaccharide consisting of glucose and fructose which is broken down by enzymes during digestion.
Fructose is often recommended for, and consumed by, people with diabetes mellitus or hypoglycemia, because it has a very low Glycemic Index (GI 32) relative to cane sugar (sucrose). The low GI is due to the unique and lengthy metabolic pathway of fructose, which involves phosphorylation and a multi-step enzymatic process in the liver. See health effects and glycation for further informations.
Structure
Missing image
D-fructose.png
image:d-fructose.png


Structure formula of fructose
Fructose, or levulose, is a levorotatory monosaccharide with the same empirical formula as glucose but with a different structure. Although fructose is a hexose (6 carbon atoms), it generally exists as a 5-membered hemiketal ring (a furanose).
The first -OH points the opposite way from the second and third -OH.
Isomerism
D-Fructose has the same configuration at its penultimate carbon as D-glyceraldehyde. Fructose is more sweet than glucose due to its stereomerism structure
Missing image
Alpha-D-Fructose-structure-corrected.png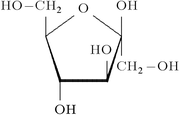 Missing image
Beta-L-Fructose-structure.png
Health effects
Fructose depends on glucose to carry it into the blood stream via GLUT-5 and then GLUT-2 (Buchs et al 1998). Absorption of fructose without glucose present is very poor, and excess fructose is carried into the lower intestine where it provides nutrients for the existing flora, which produce gas. It may also cause water retention in the intestine. These effects may lead to bloating, excessive flatulence, loose stools, and even diarrhea depending on the amounts eaten and other factors.
Fructose is implicated in producing obesity (Elliott et al 2002), elevated LDL cholesterol and triglycerides, leading to metabolic syndrome.
Fructose also chelates minerals in the blood. This effect is especially important with micronutrients such as copper, chromium and zinc. Since these solutes are normally present in small quantities, chelation of small numbers of ions may lead to deficiency diseases, immune system impairment and even insulin resistance, a component of type II diabetes (Higdon).
Fructose is a reducing sugar, as are all monosaccharides. However, it is considered approximately ten times more active (McPherson et al 1988) in the formation of glycations than glucose so consumption should be limited in order to limit the consequent glycation-related damage to cellular and molecular function. This may be an important contribution to senescence and many age-related chronic diseases (Levi & Werman 1998).
See also
References
External link
et:Fruktoos es:Fructosa eo:Fruktozo fr:Fructose it:Fruttosio ja:フルクトース nl:Fructose pl:Fruktoza zh:果糖