Freedom newspaper
From Academic Kids
Freedom (ISSN 0016 0504) is a London-based anarchist newspaper published every two weeks by Freedom Press.
The paper started in 1886 by volunteers including Peter Kropotkin and Charlotte Wilson and continues to this day as an unpaid project. Originally, the subtitle was "A Journal of Anarchist Socialism", but over the years this has changed to simply "anarchist news and views".
The newspaper's mission statement is stated in every issue, on page 2, and summarises the writers' view of anarchism:
Anarchists work towards a society of mutual aid and voluntary co-operation. We reject all government and economic repression. This newspaper, published continuously since 1936, exists to explain anarchism more widely and show that only in an anarchist society can human freedom thrive.
The paper features news from peace and labour movements and events, as well as listing planned events and protests on the back page. Staying true to Kropotkin's principle of mutual aid, the paper regularly features reviews of other anarchist and libertarian publications, such as Organise! and Direct Action as well as other local and international newsletters and journals.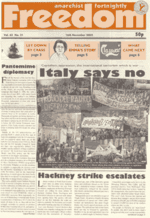 It regularly features Donald Rooum's Wildcat cartoon strip as well as Rooum's articles, including recent ones on genetically modified foods.
Along with a number of gradual changes in the content and structure of the paper and organisational changes at Freedom Press, Freedom got a re-design in September 2003, which can be seen to the right.
See also
External links