Frank Gorshin
From Academic Kids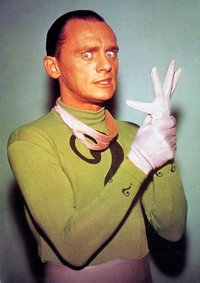 Frank Gorshin (April 5, 1934 – May 17, 2005) was an American actor and comedian from Pittsburgh, Pennsylvania. He was best known as an impressionist, with many notable guest appearances on the Ed Sullivan Show and with Steve Allen. His most famous role was The Riddler in the Batman live action television series.
Life
Frank John Gorshin was the son of Frank and Frances GorsinTemplate:Inote, a railway worker and a seamstress in Pittsburgh, where he was born on April 5, 1934. Template:InoteAged 15, he took a part-time job as a cinema usher at the Sheridan Square Theatre. Template:InoteHe memorised the mannerisms of the screen stars that he saw and created an impressionist act. He was still at high school when he obtained his first paid employment: a one-week engagement at Jackie Heller's New York night club Carousel, which he secured as the prize in a Pittsburgh talent contest in 1951. His parents had insisted that he take the engagement even though his 15 year old brother had been hit by a car and killed just two nights before. Template:Inote
After graduation from high school, Gorshin attended the Carnegie Tech School of Drama in Pittsburgh. When not studying he worked in local plays and night clubs. Template:Inote
Despite his success as a performer, Gorshin enlisted in the US Army at the age of 19 in 1953. He was posted to Korea, as an entertainer attached to Special Services. In the Army he met Maurice Bergman, who later introduced him the Hollywood agent Paul Kohner. When he left the Army he returned to public performance and in 1956 he became a prolific film actor. He also appeared as an actor and a guest on television shows including twelve guest spots on the Ed Sullivan Show. He was a popular act at nightclubs—notably those of Las Vegas, where he was the first impressionist to headline the main showrooms. Template:InoteHe was also the first impresionist to headline the Empire Room of New York's Waldorf=Astoria Hotel.Template:Inote
Gorshin's slender athletic build, his wide mouth, and his pale eyes under strong brows were ideal charcteristics for screen henchmen. In 1957 he fell asleep at the wheel of his car after driving from Pittsburgh for 39 hours without sleep. He was on his way to a Hollywood screen test for the part of Officer Ruby in Run Silent Run Deep. He sustained a fractured skull and a four-day coma; a Los Angeles newspaper incorrectly reported that he had been killed.Template:Inote
In 1961 he married Christina RandazzoTemplate:Inote, with whom he had a son, MitchellTemplate:Inote.
In 1964 he took on the role of the Riddler, for which he received an Emmy nomination. In 1968 he filmed his other Emmy-nominated role: in an episode of Star Trek. He continued to make films, and perform his nightclub act, with occassional breaks in the early 1970s to appear in Broadway shows.
He married his second wife, Haji on July 4 2004. Template:Inote
A lifelong smoker, he suffered from lung cancer and emphysema towards the end of his life. Despite his illness he continued to work until near the very end. He died on May 17, 2005, in a hospital at Burbank, California Template:Inoteof pneumonia. Christina, his first wife, was with him at his death. Template:Inote
Work
He was nominated for an Emmy (Outstanding Performance by an Actor in a Supporting Role in a Comedy) for his most famous role: as The Riddler in the Batman live action television series, in which he was clad in a bowler hat and iridescent green body suit decorated with question marks, and frequently uttered his now-famous high deranged cackle, inspired by Tommy Udo (Richard Widmark) in 1947's Kiss of Death. He also had a memorable role in the Star Trek episode "Let That Be Your Last Battlefield" as the half-whiteface, half-blackface Bele, for which he was again Emmy-nominated. Prior to that, he was a dramatic actor, often playing "tough guys" like those played by one of his favorite target of impressions, James Cagney, whom he was said to resemble.
He appeared on Broadway, in Jimmy (1970) and Guys and Dolls (1971). In 2002, he portrayed comedian George Burns on Broadway in the one-man show Say Goodnight Gracie.
His final performance was in an episode of the CBS-TV series CSI: Crime Scene Investigation which aired two days after his death and was dedicated to his memory.
Coincidentally, Gorshin passed away on the same day that the TV movie Return to the Batcave: The Misadventures of Adam and Burt was released on DVD in North America. Gorshin appeared as himself (parodying his role as the Riddler) in this popular 2003 special that reunited the original stars of the Batman series.
Gorshin also voiced villain Hugo Strange in an episode of The Batman, which is slated to air in the series' second season on the WB.
Filmography
Stage appearances
Quotes
"I don't think of myself as being funny. But life takes strange turns." [People Magazine, January 1996]
External links
References