Forest Park (St. Louis)
From Academic Kids
Missing image
McDonnell-Planetarium.jpg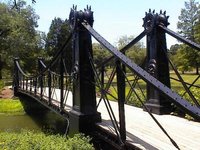 Forest Park
in
Saint Louis, Missouri
, opened in
1876
and the former site of the
Louisiana Purchase Exposition
of 1904, is one of the large urban landscape parks created in the U.S. during the later 19th century, following the example of
Central Park
in New York. At 1293 acres (6 km²), Forest Park is considerably larger than Central Park.
The park is located along the western edge of the city of St. Louis, though it is located nearly in the center of the entire metropolitan area. It is bordered by Washington University in St. Louis to the west, Highway 64/40 and Oakland Avenue to the south, Barnes-Jewish Hospital to the east, and Lindell Boulevard to the north.
At one time the River des Peres ran openly through the park, but due to sanitary concerns it was moved into a wooden box underground shortly before the World's Fair.[1] (http://www.eco-absence.org/text/desperes.htm) However, as part of the park's "Master Plan"[2] (http://stlouis.missouri.org/citygov/parks/forestpark/fpmasterplan.html), the river was brought back to the surface to link the park's lakes.
The other major park in St. Louis is Tower Grove Park.
Attractions
Municipal Opera House ("Muny")
Saint Louis Science Center (including the McDonnell Planetarium)
Jewel Box
Boat House
Steinberg Skating rink
Missouri History Museum
World's Fair Pavilion
Turtle Playground
Golf Course
Missing image
Missouri-history-museum-st-louis-forest-park.jpg
External Links