Flybe
From Academic Kids
Flybe is an airline based at Exeter Airport, England. It is the largest independent regional airline in Europe currently operating on 99 routes to 40 airports. Its main base is Exeter International Airport (EXT), with further bases at Southampton International Airport (SOU), Birmingham International Airport (BHX) and Belfast City Airport (BHD).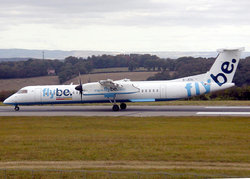 Missing image
Flybe.bae146.arp.jpg
Code Data
History
The airline was established and started operations on 1 November 1979 as Jersey European Airways, after taking over the operations of Intra Airways, but was taken over in 1983 by the Walker Steel Group, already the parent company of Blackpool based charter airline Spacegrand Aviation. The two airlines were initially run separately, with partially shared management, until their amalgamation within the Walker Aviation Group in 1985, under the Jersey European Airways name. The airline rebranded as British European Airways in June 2000 and later shortened this title to become Flybe on 18 July 2002 and repositioned as a full service, low-fare airline. The airline is owned by James French, Orbis Trustees and Rosedale Aviation Holdings. It has 1638 employees.
Services
Flybe operates the following services (at June 2005):
Domestic scheduled destinations: Aberdeen, Belfast, Birmingham, Bristol, Edinburgh, Exeter, Glasgow, Guernsey, Isle of Man, Jersey, Leeds/Bradford, Liverpool, London Gatwick, London Luton, Manchester, Newcastle, Norwich, Southampton and Southend
Code-share agreements are also in place with Air France, Continental Airlines and ScotAirways.
Fleet
The Flybe fleet consists of the following aircraft (at January 2005):
7 BAe 146-200
8 BAe 146-300
2 Bombardier Dash 8 Q300
16 Bombardier Dash 8 Q400 (further 25 on order)
In June 2005 the airline started to receive some of its order for 14 Embraer ERJ-195.
External links