Fareham
From Academic Kids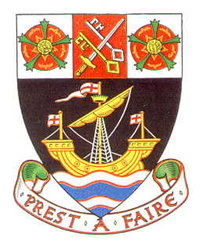 The market town of Fareham lies in the south east of Hampshire, between the cities of Southampton and Portsmouth, roughly in the centre of the South Hampshire conurbation.
It is in the larger borough of Fareham. To the south lies Gosport, to the east Portchester, to the north the M27 motorway and Wickham. Westwards lies Titchfield and the Southampton area.
The National Census, 2001 found Fareham to have lower than average unemployment and crime with house prices higher than average. The population of the borough was counted as 107,977 with an average age of 40.3 years.
Fareham traditionally relied on its clay soil for industry, producing bricks, tiles and chimney pots. The most famous example of 'Fareham Red' bricks is probably the Royal Albert Hall, London. The main economic activity in Fareham is now retail, employing 15% of the local population. Fareham has also become a popular choice for the location of business call centres, several of the UK's major banks have offices in Fareham and Adecco (http://www.adecco.co.uk/), the recruitment agency, claims Fareham as the second best call centre location in the UK.
Fareham is situated at the North-West tip of Portsmouth Harbour where the River Wallington joins it. Small industries still operate, reflecting Fareham's maritime past. HM Royal Navy operate in Fareham with the Maritime Warfare School, HMS Collingwood, training well over 2,000 British and foreign sailors at a time.
Despite prosperity, continued economic growth, and the proposed light railway system linking Fareham with Gosport and Portsmouth. Fareham has always been overshadowed by its bigger neighbours and is unlikely to achieve city status due to a lack of facilities and a lack of interest from retail businesses.
History
In the late 1990s, a settlement called Whiteley appeared to the north of Junction 9 on the M27 motorway. Whiteley is linked to the M27 by a road called "Whiteley Way". The new town has a whole range of Outlet shops to the northern part of the village, as well as a Tesco.

An urban renewal initiative began in 2003, renovating the town centre and historic buildings to include a new entertainment and shopping complex.
Twin Towns
External links