Fairey Battle
From Academic Kids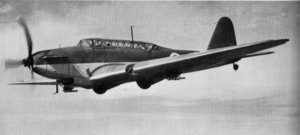 The Fairey Battle was a light bomber of the Royal Air Force built by Fairey Aviation in the late 1930s. The Battle was essentially a stretched fighter, powered by a single engine but laden with a three-man crew and bomb load, it was slow, vulnerable and limited in range.
The original Battle was designed to Specification P.37/42 as a 2-seat day bomber to replace the Hawker Hart biplane. It first flew on 10 March, 1936. The first production order was for 155 Battles built to Specification P.23/35 and the first production aircraft was completed in June 1937. When the RAF embarked on the pre-war expansion programme, the Battle became a priority production target. In total 2185 Battles were built during its production life; 1156 by Fairey and 1029 by the Austin Motor Company. A further 18 were built in Belgium under licence for service with the Belgian Air Force. The first squadron to be equipped with the Battles was No. 63 Squadron in June, 1937.
The Battle's benign handling characteristics made it an ideal platform for testing engines and it was used in this role to test engines up to 2,000 hp. The production Battles were powered by the Rolls Royce Merlin I, II, III and V and took their Mark numbers based on their engine (ie., a Battle Mk. II was powered by a Merlin II).
The Battle's standard payload of four 250 lb (110 kg) bombs was carried in cells inside the wings. An additional 500lb of bombs could be carried in under-wing racks.
The Battle was obsolete by the start of World War II but remained a front-line strike bomber of the RAF. During the Phony War phase, ten squadrons of Battles were deployed to France on 2 September, 1939 as part of the Advanced Air Striking Force. The Battle was hopelessly outclassed by the Luftwaffe fighters. When the Battle of France began, the Battles were called upon to halt the advancing panzers. On 10 May, 1940 two sorties were carried out; in the first 3 out of 8 Battles were lost, in the second 13 out of 32 were lost and the remainder suffered damage. Bombing from as low as 250 ft (760 m), their attacks had little impact on the German columns. The following day 15 Battles of the Belgian Air Force attacked bridges over the Albert Canal, losing 10 planes. In one RAF sortie on that day, only one Battle out of eight survived. On 12 May six Battles of the No. 12 Squadron RAF attacked the Albert Canal bridges; all the aircraft were destroyed.
The Battle was quickly withdrawn from a combat role and was used for training and target towing duties. As a trainer it was also used by the RAAF, RCAF and South African Air Force. The Battle was withdrawn from RAF service in 1949.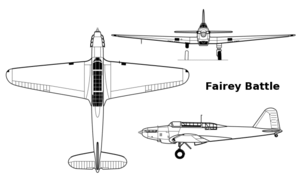 Specifications (Mk.II)
General characteristics
Crew: three
Length: 12.85 m (42 ft 2 in ft)
Wingspan: 16.46 m (54 ft)
Height: 4.72 m (15 ft 6 in)
Wing area: m² ( ft²)
Empty: 3,015 kg (6,647 lb)
Loaded: 4,895 kg (10,792 lb)
Maximum takeoff: kg ( lb)
Powerplant: 1x Rolls Royce Merlin II 12-cylinder Vee-type, 770 kW (1,030 hp)
Performance
Maximum speed: 414 km/h at 4,572 m ( 257 mph at 15,000 ft)
Range: 1,609 km (1,000 miles)
Service ceiling: 7,600 m (25,000 ft)
Rate of climb: 280 m/min (920 ft/min)
Armament
1x .303 in (7.7 mm) Browning machine gun in starboard wing
1x .303 in (7.7 mm) Vickers K machine gun in rear cabin
4 x 250 lb (110 kg) bombs internal
500 lb ( kg) bombs external
Related content
Related development: Fairey Fulmar
Comparable aircraft: Sukhoi Su-2 - Kawasaki Ki-32 - Mitsubishi Ki-30
Designation sequence: Swordfish - Battle - Seafox - Fulmar - Albacore
nl:Fairey Battle