F/A-18E/F Super Hornet
From Academic Kids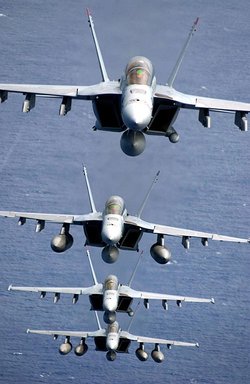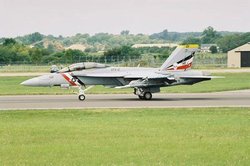 The Boeing F/A-18E/F/G Super Hornet is a fighter and attack aircraft in service with the United States Navy. The Super Hornet is essentially an all-new aircraft, with similar appearance to and some systems carried over from the F/A-18C/D Hornet.
The early 1990s brought a number of problems for US naval aviation. The A-12 Avenger II program, intended to provide a replacement for the obsolete A-6 Intruders and A-7 Corsair IIs had run into serious problems and was cancelled. At the same time, the Gulf War revealed what was perceived to be a deficiency in the Navy's strike capability, compared to that of the Air Force. With no alternative program likely to produce results before about 2020, updating an existing design became an attractive approach. One such proposal was the "Super Hornet" (or, originally, "Hornet II"), originally put forward in the 1980s as a means to improve the performance of the early F/A-18 (http://www.boeing.com/defense-space/military/fa18/fa18_milestones.htm) models then in service.
Compared with its predecessor, the Super Hornet has a 25% larger wing, allowing the aircraft to return to an aircraft carrier with a larger load of unspent munitions, provided the carrier's arrestor cables are strong enough. This factor had become important with the greater use of more expensive precision, guided weapons and a growing consciousness about avoiding "collateral damage." The fuselage was also stretched to provide greater fuel capacity (and therefore range), and to provide expansion bays for future avionics upgrades. A new, 35% more powerful engine, the General Electric F414 (http://www.geae.com/engines/military/f414/index.html) was developed to power this larger, heavier aircraft. Provisions were added to allow the aircraft to carry up to 5 440 US gallon (1700 L) external fuel tanks for long distance ferry flights or 4 tanks and a Aerial Refueling Store (http://www.arsnavy.com/) (ARS) or "buddy store." This permits the Super Hornet aircraft to escort and refuel other aircraft during missions. Finally, various aerodynamic refinements were made. By the end of all this, virtually all that the Super Hornet had in common with earlier F/A-18's was the forward fuselage. Other differences include angular intakes for the engines, reducing the plane's radar cross section (RCS); and two additional wing hardpoints, enhancing the Super Hornet's payload capacity.
The Super Hornet first flew in November 1995 and entered service in 2002. Current versions include the F/A-18E single-seater and F/A-18F two-seater. These are replacing the older F/A-18 models in the Navy's inventory, as well as the F-14 Tomcats. A dedicated electronic countermeasures version of the F/A-18F flew in late 2003, and is now in production as the EA-18G Growler, according to Aviation Week & Space Technology. The EA-18G Growler will replace the Navy's EA-6B Prowler and the Air Force's EF-111 Raven.
Specifications
Primary Function: Multi-role attack and fighter aircraft (E, F), electronic warfare aircraft (G)
Contractor: prime: Boeing Integrated Defense Systems; major subcontractor: Northrop Grumman (center section, Electronic Attack hardware on G model)
Unit Cost: (F/A-18E) $57 million (2003US$) (F/A-18F) $59 million (2003US$) (EA-18G) $66 million (2003US$)
Propulsion: 2 x F414-GE-400 turbofan engines
Thrust: 22,000 lbf (98 kN) static thrust per engine
Length: 60.3 ft (18.5 m)
Height: 16 ft (4.87 m)
Maximum take off gross weight: 66,000 pounds (29,900 kg)
Wingspan: 44.9 ft (13.68 m)
Ceiling: 50,000+ ft (15,000 m)
Speed: Mach 1.8+
Crew:

E models: one
F and G models: two

Armament (all except G): One M61A1/A2 Vulcan 20 mm cannon;
External payload: 2 wing-tip LAU-126 launchers, 6 removable under wing mounted hard points (4 with increased carrage capability), 2 multi-mode fuselage stations (air-to-air weapons or FLIR/ATFLIR), 1 centerline fuselage removable hardpoint.
Wepons employment (all except G) AIM-9 Sidewinder, AIM-7 Sparrow, AIM-120 AMRAAM, AGM-84 Harpoon, AGM-88 HARM, AGM-45 Shrike, AGM-84E SLAM, SLAM-ER, AGM-62 Walleye, AGM-65 Maverick missiles; Joint Stand-Off Weapon (JSOW); Joint Direct Attack Munition (JDAM); various general purpose bombs, mines and rockets.
Date Deployed: First Flight - December 1995; First aircraft carrier deployment (http://www.boeing.com/news/releases/2002/q3/nr_020725m.html) - July 24, 2002 with the Eagles of Strike Fighter Squadron 115 (http://www.lemoore.navy.mil/vfa-115/) (Lemoore, Ca) First Deployment (http://www.boeing.com/ids/allsystemsgo/issues/vol1/num3/story09.html)
Future Upgrades
Future growth plans for the F/A-18E/F include a redesign of the GE F414-400 engines reducing the number of parts and engine maintenance by more than 30% and increasing the engine output thrust by more than 25%. The F/A-18E/F is also planned to get AESA radar for increased reliability and accuracy, HMS (helmet-mounted sights) for in close dog fights, and Boeing plans on further reducing its RCS, thus increasing its stealthyness.