Eugene Merle Shoemaker
From Academic Kids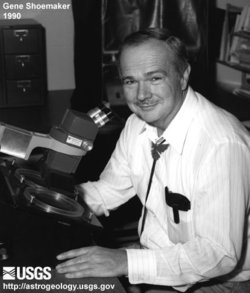 Eugene Merle Shoemaker (or Gene Shoemaker) (April 28, 1928 – July 18, 1997) was one of the founders of the fields of planetary science and is best known for co-discovering the Comet Shoemaker-Levy 9 with his wife Carolyn Shoemaker and David Levy.
For his Ph.D. at Princeton, Dr. Shoemaker conclusively showed that Barringer Meteor Crater arose from a meteor impact. Shoemaker has done more to advance the idea that sudden geologic changes can arise from asteroid strikes and that asteroid strikes are common over geologic time periods than any other person. Previously, astroblemes were thought to be remnants of extinct volcanoes -- even on the Moon.
Shoemaker gained this insight after inspecting craters at the Nevada Test Site at Yucca Flats that remained after underground atomic bomb tests. He found a ring of ejected material; in both cases it included shocked quartz (coesite), a form of quartz that has a microscopically unique structure caused by intense pressure.
Dr. Shoemaker helped pioneer the field of astrogeology by founding the Astrogeology Research Program of the USGS in 1961. He was its first director. He was prominently involved in the Lunar Ranger missions to the Moon, which showed that the Moon was covered with a wide size range of impact craters. Dr. Shoemaker was also involved in the training of the American astronauts. He was set to be the first scientist to walk on the Moon but was disqualified due to a disorder of his adrenal gland.
Coming to Caltech in 1969, he started a systematic search for Earth orbit-crossing asteroids, which resulted in the discovery of several families of such asteroids, including the Apollo asteroids.
Dr. Shoemaker received a National Medal of Science in 1992. In 1993, he co-discovered Comet Shoemaker-Levy 9, which was the first observed planetary impact of a comet.
Dr. Shoemaker perished in a car crash in Alice Springs, Australia in 1997. His ashes were carried to the Moon by the Lunar Prospector space probe.
Shoemaker's Patio is an area of rock on Mars informally dubbed in tribute by the Mars Exploration Rover Mission team and analyzed by the Mars Rover Opportunity. The asteroid, 2074 Shoemaker, is named in his honor.
External links and references