Emperor (band)
From Academic Kids
Emperor is a seminal and infamous Norwegian black metal band that was formed in 1991 and dissolved in 2001. The group was founded by Samoth on drums and vocals and Ihsahn on guitar.
Biography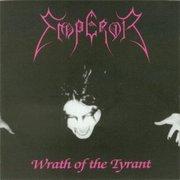 In their youth, Ihsahn and Samoth met at a rock music seminar. The two young men began playing together under various names; first Dark Device, then Xerasia, then Embryonic. The group soon evolved into the now well-known band Thou Shalt Suffer. Soon, however, Samoth began to write music outside of Thou Shalt Suffer, and together with Ihsahn and a new bass player called Mortiis (later of his own eponymous band Mortiis), Emperor was formed. After a short while together, the band released a demo entitled Wrath Of The Tyrant. It quickly gained popularity in the underground and attracted the attention of the then-start-up label Candlelight. Soon afterwards, a record contract was signed, Samoth moved to guitars, Ihsahn took over the vocal duties and Faust was recruited as a drummer.
In the summer of 1992, a series of events were set in motion by the black metal inner circle. Members of Mayhem and Samoth, along with various other black metallers, set out to burn down the ancient churches of Norway. Also in 1992, Faust was in Lillehammer to see the newly constructed Olympic park. A homosexual man approached him and suggested that they go together in the nearby forest. Faust agreed, and once in the forest, stabbed the man to death. He was not convicted until a year later. After Faust committed the murder, he went with members of Mayhem to burn bibles and hymnals at a nearby ski-jump. In the summer of 1993, the band began work on their first full-length record. Emperor supported the famous British black metal group Cradle Of Filth on tour, and after this tour the band ceased wearing corpse paint; they stated that it was becoming a trend and losing its original significance and symbolism. In the autumn of that year, a police investigation began to solve the murder of Euronymous; this investigation eventually led to the incarceration of Samoth for arson, and of Faust for murder.
In 1994, In The Nightside Eclipse was released, and earned Emperor widespread acclaim and a large fanbase.
After Samoth's parole, the band was joined by Trym on drums, and in the end of 1996, Emperor entered the studio to record what is their most definitive album to date - Anthems To The Welkin At Dusk. Featuring a much more pompous and progressive sound than their earlier output, Anthems To The Welkin At Dusk was a much more commercial effort, winning the album of the year poll in many popular metal magazines around the world, including UK Terrorizer and US Metal Maniacs.
Now continuing their career as a trio, with Ihsahn handling keyboards, vocals, guitars and bass, the band recorded their third album IX Equilibrium and toured Europe and the United States. It was around 2000 when Samoth and Trym started to gravitate more towards death metal, while Ihsahn directed his musical exploration towards the more artistic and progressive side of extreme metal, as shown by his side project, Peccatum. Thus, in 2001, Emperor decided to disband after releasing one final album, Prometheus: The Discipline Of Fire And Demise, composed entirely by Ihsahn.
Today, Samoth and Trym continue playing in the black/death metal outfit Zyklon, while Ihsahn has concentrated on his family project Peccatum.
Discography
Missing image
Emperor_inthenightsideeclipse.jpg
Studio releases
Live and compilation releases
Demos and bootlegs
Videography
Band members
Former members
Live and session members
External Links