Emmitt Smith
From Academic Kids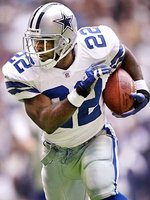 Emmitt James Smith III (b. May 15, 1969 in Pensacola, Florida) is a retired American football player.
In high school, Smith amassed 8804 rushing yards and scored 106 touchdowns. He starred at the University of Florida, where he joined Phi Beta Sigma Fraternity. He was drafted by the Dallas Cowboys in 1990 and subsequently becoming an integral part of their three Super Bowl championship teams in four years following the 1992-93 and 1995 seasons.
On February 27, 2003, Smith volunteered to be released by the Cowboys, rather than put owner Jerry Jones in the awkward position of cutting him. He signed a two-year contract with the Arizona Cardinals on March 26. On February 3, 2005, at a press conference in Jacksonville, Florida three days before Super Bowl XXXIX, he announced his retirement after fifteen seasons in the NFL.
Smith currently holds the NFL record in career rushing yards and is the only player in NFL history to rush for over 18,000 yards, breaking the previous record, held by Walter Payton, on October 27, 2002. He married Patricia Southall on April 22, 2000. Their son, Emmitt IV, was born on Smith's 33rd birthday.
External Links