Eddie Kendricks
From Academic Kids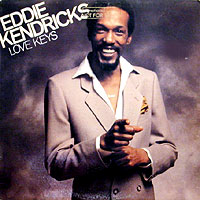 Eddie Kendricks (Edward James Kendrick) (December 17, 1939, - October 5, 1992) was an African-American tenor singer and songwriter. He is noted for being one of the lead singers of the Motown singing group The Temptations during the 1960s and early 1970s, and also for recording hits as a solo artist during the 1970s.
Biography
Early years
Kendricks was born in Union Springs, Alabama; his family later moved to Birmingham, where he met and began singing with his best friend Paul Williams in their church chior in the late 1940s. In 1955, Kendricks, Williams, and friends Kel Osbourne and Wiley Waller formed a doo-wop group called The Cavaliers, and began performing around Birmingham. The group decided to move for better opportunities in their musical careers, and in 1957 Kendricks, Williams, and Osbourne moved to Cleveland, Ohio, with Waller staying in Alabama. In Cleveland, they met manager Milton Jenkins, and soon moved with Jenkins to Detroit, Michigan, where the Cavaliers renamed themselves The Primes. In 1961, Osbourne moved to California, and the Primes disbanded. Kendricks and Williams joined forces with members of The Distants to become The Elgins, who signed to Motown that same year as The Temptations.
The Temptations
After an initial dry period, The Temptations quickly became Motown's most successful male vocal group of the 1960s. Among the Temptations songs Kendricks sang lead on (usually in a falsetto voice) were "The Way You Do the Things You Do" (the group's first US Top 20 hit), "Get Ready", and "Please Return Your Love to Me". He shares lead vocal duty on other records, including "You're My Everything" (shared with David Ruffin), and a long string of Norman Whitfield-produced psychedelic soul records where all five Temptations sung lead.
In the Temptations, Kendricks was responsible for creating most of the group's vocal arrangmeents, and also served as wardrobe manager. His favorite food was cornbread, and as a result he was nicknamed "Cornbread" (or "Corn" for short) by his bandmates.
Kendricks remained in the group through the rest of the decade, but a number of issues began to push him away from it in the late 1960s and early 1970s. He was uncomfortable with singing the psychedelic-styled that Whitfield was now crafting for the group, his friend Paul Williams was often too ill to perform with the group, and he often found himself at odds with bandmates Otis Williams and Melvin Franklin. Kendricks began an alliance with ex-Temptation David Ruffin, who convinced him to leave the group. Kendricks recorded one last hit single with the Temptations, 1971's "Just My Imagination (Running Away With Me)"; by the time the record reached #1 on the US pop charts in April 1971, Eddie Kendricks had quit The Temptatiosn and signed a solo deal with Motown's Tamla imprint.
Solo Career
Eddie Kendricks' solo career began slowly; he endured two years of singles that missed the Top 40, while The Temptations continued with their string of Norman Whitfield-helmed hits (one of which, "Superstar "Remember How You Got Where You Are", was written as a jab towards Kendricks and Ruffin). When Kendricks finally scored a hit in 1973, it resulted in his first and only solo #1 hit, the Frank Wilson-produced "Keep on Truckin'". Future hits included "Boogie Down," "Shoeshine Boy," and "He's a Friend."
Kendricks left Motown, forced to sign away the rights to his royalties to do so, in 1978, moving first to Arista Records, and later to Atlantic Records. By this time, his popularity had waned, and he was also gradually losing his voice as a result of chain smoking. He and David Ruffin briefly re-joined the Temptations for a 1982 reunion tour. Ruffin and Kendrick (Kendricks dropped the "s" from his stage name during the 1980s) recorded an album as a duo for RCA in 1988. In 1989, Kendrick, Ruffin, and their old Temptations bandmates were inducted into the Rock and Roll Hall of Fame. There, Kendrick and Ruffin made plans with former Temptation Dennis Edwards to tour and record as "Ruffin/Kendrick/Edwards, Former Leads of The Temptations." The Ruffin/Kendrick/Edwards project was cut short in 1991, when Kendrick was diagnosed with lung cancer and David Ruffin died of a drug overdose.
In late 1991, Kendrick, by now living in his native Birmingham, underwent surgery to have one of his lungs removed in hopes of preventing the spread of the cancer. He continued to tour through the summer of 1992, when he fell ill again and was hospitalized. Eddie Kendricks died on October 5, 1992 of lung cancer in Birmingham at the age of 52.
Discography
Albums
as Eddie Kendricks
1971: All By Myself
1972: People ... Hold On
1973: Eddie Kendricks
1974: Boogie Down!
1974: For You
1975: The Hit Man
1976: He's A Friend
1976: Goin' Up In Smoke
1977: Slick
1978: Vintage'78
1979: Something More
as Ruffin and Kendrick
1988: Ruffin And Kendrick
Singles
1971: "Can I"
1971: "It's So Hard For Me To Say Good-Bye" (US #88)
1972: "Eddie's Love" (US #77)
1972: "If You Let Me" (US #66)
1973: "Darling Come Back Home" (US #67)
1973: "Girl You Need A Change Of Mind (Part 1)" (US #87)
1973: "Keep On Truckin' (Part 1)" (US #1)
1974: "Boogie Down" (US #2)
1974: "One Tear" (US #71)
1974: "Son of Sagittarius" (US #28)
1974: "Tell Her Love Has Felt the Need" (US #50)
1975: "Get the Cream off the Top" (US #50)
1975: "Happy" (US #66)
1975: "Shoeshine Boy" (US #18)
1976: "Chains"
1976: "Get It Whie It's Hot"
1976: "He's a Friend" (US #36)
1976: "It's Not What You Got"
1977: "Goin' Up In Smoke"
1978: "Ain't No Smoke Without Fire"
1978: "Intimate Friends"
1978: "The Best of Strangers Now"
1980: "I Just Want To Be the One In Your Life"
1981: "Oh I Need Your Loving"