Draft lottery (1969)
From Academic Kids
On December 1, 1969, the Selective Service System of the United States held a lottery to determine the order of draft (induction) into the U.S. Army.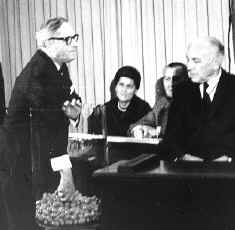 The days of the year, from 1 to 366, were written on slips of paper and the slips were placed in plastic capsules. The capsules were mixed in a shoebox and then dumped into a deep glass jar. Capsules were drawn from the jar one at a time.
The photograph shows Congressman Alexander Pirnie (R-NY) drawing the first capsule for the Selective Service draft, December 1, 1969. Congressman Pirnie's left hand appears to be on the mouth of the jar.
The first number drawn was 258 (September 14). Men of draft age whose birthday fell on the corresponding day of the year would all be drafted at the same time.
A scatterplot of the days of the year (horizontal axis) and their ranks (vertical axis) shows a noticeable absence of days in December with high ranks (later induction).
Background of Selective Service (Source: Selective Service System - June 25, 2001 revision)
For more than 50 years, Selective Service and the registration requirement for America's young men have served as a backup system to provide manpower to the U.S. Armed Forces.
President Franklin Roosevelt signed the Selective Training and Service Act of 1940 which created the country's first peacetime draft and formally established the Selective Service System as an independent Federal agency.
From 1948 until 1973, during both peacetime and periods of conflict, men were drafted to fill vacancies in the armed forces which could not be filled through voluntary means.
In 1973, the draft ended and the U.S. converted to an All-Volunteer military.
The registration requirement was suspended in April 1975. It was resumed again in 1980 by President Carter in response to the Soviet invasion of Afghanistan. Registration continues today as a hedge against underestimating the number of servicemen needed in a future crisis.
The obligation of a man to register is imposed by the Military Selective Service Act. The Act establishes and governs the operations of the Selective Service System.
(Source: Selective Service System - June 25, 2001 revision)
References
S.E. Fienberg. "Randomization and Social Affairs: The 1970 Draft Lottery". Science, volume 171, pages 255-261 (1971). (Cited by Starr as the "best and most comprehensive" article on the topic)
Norton Starr. "Nonrandom Risk: The 1970 Draft Lottery". Journal of Statistics Education, volume 5, number 2 (1997). (Also available on-line: [1] (http://www.amstat.org/publications/jse/v5n2/datasets.starr.html) Contains a lesson plan for statistics class using the 1970 and 1971 draft lottery data)
External links