Dick Gephardt
From Academic Kids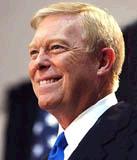 Richard Andrew Gephardt (born January 31, 1941) served as a U.S. Representative from Missouri from January 3, 1977, until January 3, 2005.
Early Life
Gephardt was born in St. Louis, Missouri, and graduated from South West High School in 1958. He earned his B.S. at Northwestern University in 1962 and earned his J.D. at the University of Michigan Law School in 1965.
In 1965, he was admitted to the Missouri bar. He then entered the Missouri Air National Guard, where he served until 1971.
Political career
He was Democratic committeeman in St. Louis between 1968 and 1971, moving up to alderman 1971-1976. He was elected as a Democrat to the 95th succeeding Congress, and was repeatedly re-elected until he chose to not to run for re-election in 2004.
He was an unsuccessful candidate for the Democratic nomination in the 1988 presidential election and then again in the 2004 presidential election . He was majority leader from 1989 to 1994 (101st through 103rd Congresses) and minority leader from 1995 to 2003 (104th through 107th Congresses). Gephardt's successor as House Minority Leader, Nancy Pelosi, endorsed his bid for president.
2004 campaign for President
He announced his second run for President on January 5, 2003, dropping out a year later after his fourth-place finish in the Iowa caucus.
Although he dropped out of the running for President, Gephardt was mentioned as a possible running mate for John Kerry. On March 7, 2004 New Mexico Governor Bill Richardson, seen as a strong possibility for the position himself, endorsed Gephardt for the Vice Presidency. "I think he's the best candidate," Richardson said of Gephardt in an interview with The Associated Press. "There's a good regional balance with Kerry and Gephardt." Nevertheless, Kerry announced that he had chosen John Edwards as his running mate on July 6, 2004. (Although on that same day the New York Post published an incorrect headline stating that Gephardt had become Kerry's running mate.) Shortly after this false story broke, the headline was compared to the 1948 "Dewey defeats Truman" front page of the Chicago Tribune, which falsely reported the presidential election results of that year.
Political views
Since his election to the U.S. House in 1976, Gephardt's political views gradually moved to the left. Originally, Gephardt was strongly anti-abortion and was viewed as a social conservative. His views on abortion shifted from pro-life to pro-choice in late 1986.
However in 1987, when Gephardt decided to run for president, he announced that he had discontinued his support for pro-life legislation. He informed the National Right to Life Committee; "I now do not support any Constitutional Amendment pertaining to the legality of abortion." Gephardt's views on economic policy have also changed. He voted for President Reagan's tax cuts in 1981, though in the 2000s, he became a staunch opponent of similar tax cuts by President George W. Bush, saying that the enormous surplus created during the administration of Bill Clinton should have been spent on health care instead. Gephardt is widely viewed as an economic populist. He supports universal health coverage, fair trade, and progressive taxation. Although a former chairman of the centrist Democratic Leadership Council, Gephardt in his later years in Congress distanced himself from the organization, finding his pro-labor views at odds with the DLC's pro-business positions.
Retirement
On January 3, 2005, Gephardt's three-decade political career came to an end, with the expiration of his fourteenth term in the House of Representatives. The Hill (http://www.thehill.com/thehill/export/TheHill/News/Frontpage/031505/gephardt.html) repoerted that Gephardt was close to signing a contract to work for investment banking firm Goldman Sachs. Though known as one of Congress' less affluent members, Gephardt is expected to collect approximately $5 million in benefits over the course of his expected lifetime.
Quotes
External links