De Havilland Canada DHC-1 Chipmunk
From Academic Kids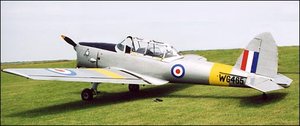 Missing image
DeHavillandDHC-1B-2-S5Chipmunk01.jpg
The de Havilland Canada DHC-1 Chipmunk is a tandem two-seat single-engined trainer aircraft which was the standard primary trainer for the British military though most of the post-war years.
Designed to succeed the de Havilland Tiger Moth biplane trainer, the Chipmunk flew for the first time at Downsview, Toronto on 22 May 1946. It was the first indigenous design of de Havilland Aircraft of Canada Ltd; the main designer was a Pole, Wsiewolod Jakimiuk. The prototype was powered by a 108 kW (145 hp) de Havilland Gipsy Major 1C
Two were evaluated by the Aeroplane and Armament Experimental Establishment at Boscombe Down. As a result, the fully-aerobatic Chipmunk was ordered as an ab initio trainer for the Royal Air Force. Prince Philip took his first flying lesson in one in 1952. The Royal Canadian Air Force also adopted the Chipmunk as their primary trainer.
Downsview built 218 Chipmunks, the last in 1956. 1014 were built in Britain. 60 Chipmunks were licence-manufactured from 1955 to 1961 in Portugal for the Portuguese air force. Other users included Burma, Ceylon, Chile, Colombia, Denmark, Egypt, Eire, Iraq, Israel, Jordan, Lebanon, Malaya, Saudi Arabia, Syria, Thailand and Uruguay.
British built and early Canadian built Chipmunks are notably different from the later Canadian built RCAF/Lebanese ones. The later Canadian built airplanes have a bubble canopy, while early Canadian, Portuguese and British examples have the multi-panelled sliding canopy, the rearmost panels of which are "bubbled" out for better instructor visibility.
From the 1950s onward, the Chipmunk also became a popular civilian aircraft, being used for training, aerobatics and crop spraying. Most civilian aircraft were ex-military.
The RAF received 735 Chipmunks manufactured in the UK. They initially served with University Air Squadrons. A few Chipmunks were pressed into service in Cyprus on internal security flights during the troubles of 1958, and some were used for covert reconnaissance operating out of Berlin. They were still in service for ATC Air Experience Flights until 1996 when they were replaced by the Bulldog (itself replaced by the Grob Tutor in 1999-2000). The last Chipmunks in military service are operated by Royal historic flights - the RAF Battle Of Britain Memorial Flight, to keep its pilots current on tailwheel aircraft, the Royal Navy and Army historic flights for flying displays in the UK.
Units using the Chipmunk
Royal Air Force
Specifications
General characteristics
Crew: 2, student & instructor
Length: 25 ft 5 in (7.75 m)
Wingspan: 34 ft 4 in (10.47 m)
Height: 7 ft in (2.1 m)
Wing area: 172 ft² (16.0 m²)
Empty: 1517 lb (646 kg)
Loaded: 2014 lb (953 kg)
Maximum takeoff: 2200 lb ( kg)
Powerplant: 1 x De Havilland Gipsy Major 8, 145 hp (108 kW)
Performance
Maximum speed: 138 mph (222 km/h)
Range: 280 miles (445 km)
Service ceiling: 15,800 ft (5200 m)
Rate of climb: 900 ft/min (274 m/min)
Wing loading: lb/ft² ( kg/m²)
Power/mass: hp/lb ( kW/kg)
Related content
Related development: None
Comparable aircraft: BT-13 Valiant
Designation series: DHC-0 - DHC-1 - DHC-2 - DHC-3 - DHC-4
See also
External links