David Schwimmer
From Academic Kids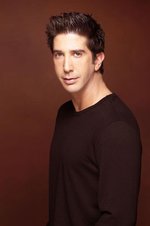 David Schwimmer (Yiddish דוד שװימער, born November 12, 1966) is an American actor, born in Astoria, New York, USA. He is best known for his role as Ross Geller in Friends. He earned an Emmy nomination in the Outstanding Supporting Actor in a Comedy Series category for Friends in 1995, and frequently directed episodes of the acclaimed comedy series.
His film credits include Apt Pupil, The Pallbearer, Breast Men, Kissing a Fool, Six Days Seven Nights, and Madagascar (voice). Schwimmer also appeared in the Steven Spielberg and Tom Hanks TV production Band of Brothers.
Born in New York and raised in Los Angeles, Schwimmer was encouraged by a high school instructor to attend a summer program in acting at Northwestern University. Inspired by that experience, he returned to Northwestern where he received a bachelor's degree in speech/theater. In 1988, along with seven other Northwestern graduates, he co-founded Chicago's Lookingglass Theatre Company.
External links
he:דיוויד שווימר