David Rittenhouse
From Academic Kids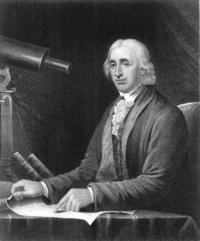 David Rittenhouse (1732 - June 26, 1796) was an astronomer, mathematician, and the first director of the United States Mint. He retired in 1795 and died of cholera on June 26, 1796.
Rittenhouse was born in Paper Mill Run (now Germantown) Philadelphia. He was self-taught and from a young age showed great ability in science and mathematics. At 19 he started a scientific instrument shop on his father's farm in Norriton. He was a skilled clock-mender. This led him to construct two orreries, one of which is in the library of the University of Pennsylvania and one which is Peyton Hall at Princeton University. Rittenhouse invented the diffraction grating and was one of the first to build a telescope used in the United States.
Other notable events in Rittenhouse's life include:

In 1825 one of William Penn's original squares in Philadelphia, called 'Southwest Square' (being in the southwest quadrant of the original city plan) was renamed Rittenhouse Square in David Rittenhouse's honor. The University of Pennsylvania houses its Physics and Mathematics departments in David Rittenhouse Laboratory.
External links