Dave Grohl
From Academic Kids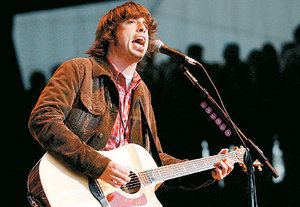 Dave Grohl (born David Eric Grohl; January 14, 1969 in Warren, Ohio) is a rock musician, who was the drummer of the grunge band Nirvana from 1990 until the band split up in 1994 after frontman Kurt Cobain's suicide. He formed the band Foo Fighters later that year. Grohl is currently married to Jordyn Blum, who used to work at MTV.
Grohl, who was raised in Alexandria, Virginia, attended highschool at Annandale High School for two years (vice-president of his freshman class) before attending Bishop Ireton (an all boys private school). He began his music career in the 1980s as the drummer for the band Freak Baby, also was in a band named Mission Impossible, and later joined the Washington, DC punk rock band Scream.
Nirvana
Buzz Osborne of The Melvins recommended him to Nirvana after the departure of drummer Chad Channing. Dave Grohl joined Nirvana and moved to Olympia, Washington in 1990, where he shared a tiny apartment with Cobain. (He later moved to Seattle.) Grohl's distinctively heavy-handed drumming, a style he learned from banging marching band sticks on his bed as a teenager, were a driving force behind Nirvana's breakthrough album Nevermind.
Although Grohl was known to most fans only as a drummer and backing vocalist, he had in fact played guitar for several years. In 1990 he released a cassette demo, Pocketwatch, under the name "Late!", for which he played all of the instruments. From this recording, the song "Marigold" would later become a Nirvana b-side (with Grohl on vocals), while "Winnebago" would later be released as a Foo Fighters song, as the b-side of "This Is A Call". Grohl recorded "Marigold" in their apartment, nearly whispering, so that Cobain couldn't hear him singing. But he did, and it became a Nirvana song. From the same period, and reminiscent of, is "Friend of a Friend", which appears on In Your Honor. Grohl also contributed a riff which would later become "Scentless Apprentice", from Nirvana's album In Utero.
Foo Fighters
Following Cobain's death Grohl recorded a fifteen-track demo, on which he again played all instruments with the exception of a guitar part on "X-Static", played by Greg Dulli of the Afghan Whigs, and the bass part of "Alone + Easy Target", which was played by Krist Novoselic. The demo gained considerable buzz and was released, unchanged except for trimming three tracks, in 1995 as the Foo Fighters' debut album. Grohl did not want the effort to be considered the start of a solo career, so he recruited other band members. Former Nirvana member Pat Smear (guitar), and two members of the band Sunny Day Real Estate, William Goldsmith (drums) and Nate Mendel (bass).
After the release of their debut, the band released their second album The Colour and the Shape in 1997. Considered by many as the band's finest work to-date, it consists of hits such as: "Everlong", "My Hero", and "Monkey Wrench". Smear and Goldsmith left the band soon after its release, replaced by former Alanis Morrissette drummer Taylor Hawkins and Franz Stahl, respectively. Stahl later left the group in the midst of a world tour and was replaced shortly thereafter by Chris Shiflett.
The Foo Fighters' tremendous success led once again to a life of touring and traveling for Grohl, who throughout the 1990s lived in Seattle and Los Angeles before returning to his native Virginia, where he turned his basement into a recording studio where the 1999 album There Is Nothing Left to Lose was recorded.
In 2002 the Foo Fighters returned to the studio and released their fourth album, One by One, considered by many to be an excellent sequel to their previous work and widely accepted as one of the best rock albums of the year.
Dave and The Foo Fighters recently released their fifth album "In Your Honor", on June 14, 2005. "In Your Honor" is a double album with one disc acoustic and one traditional rock. Featuring collaborations with many artists, it had been over a year in the making which is the longest time it has ever taken the Foo Fighters to record an album. It was leaked on the internet in late May of 2005.
Other projects
Aside from the Foo Fighters, Grohl has worked on several other musical projects, earning a reputation as a rock and roll "jack of all trades". He recorded the score for the 1997 film Touch. In 2001 he joined Queens of the Stone Age as a drummer, both for the recording of their album Songs for the Deaf and the tour which followed the album's release. In 2002 Grohl also played drums for Tenacious D. He has also drummed on the latest Killing Joke album.
Grohl spent the last several years working on a new side project named PROBOT. According to an interview published in the magazine Guitar World, the project began as a self-induced backlash against the more commercial friendly material Grohl wrote for There Is Nothing Left to Lose. The album features various metal singers on vocals, most notably Lemmy Kilmister of Motörhead, and is entirely Grohl's instrumentation except for 2 lead guitar tracks performed by Soundgarden's Kim Thayil. A PROBOT demo disc is where the the previously unreleased Nirvana song "You Know You're Right" was leaked in the middle of the Nirvana LLC dissolution case.
In 2003 he, once again on drums, helped Chan Marshall of the band Cat Power in recording the album You are Free. Then in 2004 he drummed for some of the tracks on industrial rock band Nine Inch Nails' album With Teeth, and one song for Garbage's album Bleed Like Me, both released in 2005.
In film and television, he has made appearances on The X-Files and on MTV's Daria: Is It Fall Yet? (2000).
The Drummer
In addition to Grohl's talents as a songwriter and guitarist, Grohl's true claim to fame among other musicians might be his drumming. As a youth in Washington, DC learning to play the drums, Grohl's influences were hard rock bands such as Led Zeppelin, Queen, Motörhead, The Who and Black Sabbath. The rocker got to live out a dream when he and his fellow Foo Fighters got to induct Queen into the Rock and Roll Hall of Fame in 2001, and they joined the legendary British rock band for a rollicking rendition of the Queen classic "Tie Your Mother Down". The influence of Keith Moon's and John Bonham's hard-hitting style would become increasingly apparent as Grohl moved away from the punk stylings of Scream and he joined Nirvana. Grohl's heaviest drumming is likely on the Queens of the Stone Age album Songs for the Deaf, a performance that prompted AMG music critic Stephen Thomas Erlewine to describe Grohl as "the most powerful drummer in the universe."[1] (http://www.allmusic.com/cg/amg.dll?p=amg&sql=10:k2kqikmabbc9) Grohl was also featured as the drummer on Tenacious D's 2001 self-titled debut album.
Trivia
In the 2002 Triple J Hottest 100 Grohl achieved a new record of having a part in 10 of the top 100 songs, including the Nirvana track "You Know You're Right", over the release of which he and Novoselic had spent years battling with Cobain's widow Courtney Love.
Recently, one of Grohl's demo tapes from 1993 has surfaced, which features early versions of some of the songs that ended up on the first Foo Fighters album. The demo also contains a previously unreleased song called "Mountain of You" (which was originally thought to be titled "Mountain View", but Grohl has confirmed the real title in a posting (http://bbs.foofighters.com/ultimatebb.php?ubb=get_topic;f=13;t=000039) on the official Foo Fighters message board).
Dave Grohl can be seen in Tenacious D's video for "Tribute" as the demon.
External links
de:Dave Grohl fr:Dave Grohl id:Dave Grohl nl:Dave Grohl no:Dave Grohl pl:Dave Grohl sv:Dave Grohl