DNA polymerase
From Academic Kids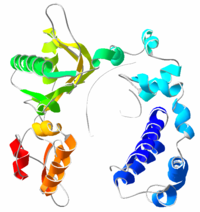 A DNA polymerase is an enzyme that assists in DNA replication. Such enzymes catalyze the polymerization of deoxyribonucleotides alongside a DNA strand, which they "read" and use as a template. The newly polymerized molecule is complementary to the template strand and identical to the template's partner strand.
All DNA polymerases synthesize DNA in the 5' to 3' direction. No known DNA polymerase is able to begin a new chain (de novo). They can only add a nucleotide onto a preexisting 3'- OH group. For this reason DNA polymerase needs a primer at which it can add the first nucleotide. Primers consist of RNA and DNA bases with the first two bases always being RNA and are synthesized by another enzyme called primase. An enzyme known as a helicase is required to unwind DNA from a double stranded structure to a single stranded structure to facilitate replication of each strand consistent with the semiconservative model of DNA replication.
DNA polymerases have highly conserved structure which means that their overall catalytic subunits vary, on a whole, very little from species to species. Conserved structures usually indicate evolutionary advantages.
DNA polymerase is considered to be a holoenzyme since it requires a Magnesium ion as a co-factor to function properly. In the absence of the Magnesium ion, it is referred to as an apoenzyme.
Error correction is a property of some, but not all, DNA polymerases. This process corrects mistakes in newly synthesized DNA. When an incorrect base pair is recognized, DNA polymerase reverses its direction by one base pair of DNA. The 3'->5' exonuclease activity of the enzyme allows the incorrect base pair to be excised (these activity is known as proofreading). Following base excision, the polymerase can re-insert the correct base and replication can continue.
Some viruses also encode special DNA polymerases which may selectively replicate viral DNA through a variety of mechanisms. Retroviruses encode an unusual DNA polymerase called reverse transcriptase, which is an RNA-dependent DNA polymerase (RdDp). It polymerizes DNA from a template of RNA.
Bacteria
Bacteria have 3 DNA polymerases:
Eukaryotes
Eukaryotes have so far been found to have 6 major DNA Polymerases:
None of the eukariotic polymerases can remove primers (5'->3' exonuclease activity), that function is carried out by other enzymes. Only the polymerases that deal with the elongation (γ, δ and ε) have proofreading ability (3'->5' exonuclease).
There are also other eukaryotic polymerases known, which are not as well characterized: η, θ, ι, κ, λ, and μ. There are also others, but the nomenclature has become quite jumbled. See the External Links or do a quick search of PubMed (http://www.ncbi.nlm.nih.gov/entrez) to get the most up-to-date information.
See also
External links
es:ADN polimerasa ja:DNAポリメラーゼ zh:DNA聚合酶