Christ Church Cathedral (Montreal)
From Academic Kids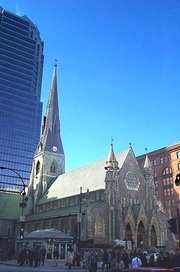 Christ Church Cathedral
is an
Anglican
cathedral
in
Montreal
,
Quebec
,
Canada
, the seat of the
Anglican Diocese of Montreal
.
A cathedral by this name was formerly located on rue Notre-Dame in Old Montreal. When the Anglican Diocese of Montreal was separated from the Diocese of Quebec, that Christ Church was designated as the cathedral for the new diocese. It was destroyed by fire in 1856.
The present cathedral, an English neo-gothic structure, was designed by architect Frank Wills, who also designed Christ Church Cathedral in Fredericton, New Brunswick. It was completed in 1859 and consecrated in 1867.
Unfortunately, the design, though acclaimed for its architecture, suffered from important engineering flaws. The soft ground could not support the heavy central stone tower and steeple, which began to subside and lean. This defect formed the basis of an important lawsuit (Wardle v. Bethune) often cited as precedent relating to Article 1688 of the Quebec Civil Code. The steeple had to be removed in 1927. New foundations were poured in 1939, and in 1940, an anonymous donation permitted the construction of a much lighter steeple made of aluminum, moulded to simulate the former stone spire. It is 28 metres high, attaining a height of 70 metres off the ground.
Recent additions to the church include a choir gallery, built in 1980, and the church's third organ, completed in 1981.
Another interesting chapter in the cathedral's architecture occurred in the 1980s, when the Anglican diocese, the Cathedral, and the Canadian Bible Society entered into two agreements with property developers to permit the construction of a 34-storey office tower behind the cathedral as well as an underground shopping mall beneath it. This required the cathedral to be braced with a complicated series of pre-stressed concrete columns and beams, which supported the building in mid-air while the shopping mall was excavated.
Construction began in February 1987 and was completed in November of the same year. The office tower is known as the Maison des Coopérants or Place de la Cathédrale, with the shopping mall being called the Promenades de la Cathédrale. The construction of the mall, integrated into the underground city, involved modifications to the McGill metro station.
The office tower includes space for the Diocesan offices, and the mall includes a Canadian Bible Society outlet, an Anglican bookstore and a space called the Undercroft which includes the cathedral's Sunday school, drop-in centre, and practice rooms. The rent paid to the Church, approximately $400,000, helps to pay for the upkeep of the cathedral. Views of the office tower's façade reflecting and enhancing the church have become iconic of Montreal and are often seen on postcards and photographic albums.
The cathedral is located at 1444 rue Union, with its main façade on rue Sainte-Catherine (McGill metro station), in the city's central business district.
See also
External links