Chemical bond
From Academic Kids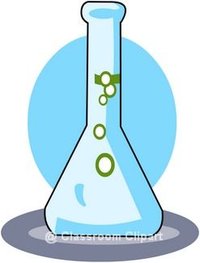 A
chemical bond
is the phenomenon of
atoms
being held together in
molecules
or
crystals
. All chemical bonds are due to
electrons
interacting simultaneously with the atoms in question. These electrons are normally part of an atom's
atomic orbital
(AO), but in a bond, they thus form a
molecular orbital
(MO). These elecron-
nucleus
interactions are caused by the
fundamental
force of
electromagnetism
. Atoms will form a bond if their orbitals become lower in energy when they interact with each other.
There are 5 different types of chemical bonds that we use to categorize atomic interactions. These classifications are defined by electron cloud shape and by energy levels. Actual bonds have properties that aren't so discretely categorized, so a given bond could be defined by more than one of these terms.
The five types of chemical bonds:
The electrons in the MO of a bond are said to be either "localized" on certain atom(s) or "delocalized" between two or more atoms. The type of bond between two atoms is defined by how much the electron density is localized or delocalized among the atoms of the substance.
Many simple compounds involve covalent bonds. These molecules have structures that can be predicted using valence bond theory, and the properties of atoms involved can be understood using concepts such as oxidation number. Other compounds that involve ionic structures can be understood using theories from classical physics. However, more complicated compounds such as metal complexes cannot be described by valence bond theory, and we need quantum chemistry (based on quantum mechanics) to help us understand these molecules.
In the case of ionic bonding, electrons are mainly localized on the individual atoms, and electrons do not travel between the atoms very much. Each atom is assigned an overall electric charge to help us conceptualize the MO's distribution. The forces between atoms (or ions) are largely characterized by isotropic continuum electrostatic potentials.
By contrast, in covalent bonding, the electron density within bonds is not assigned to individual atoms, but is instead delocalized in the MOs between atoms. The widely-accepted theory of the linear combination of atomic orbitals (LCAO) helps describe the MOs' structures and energies based on the AOs of the atoms they came from. Unlike pure ionic bonds, covalent bonds may have directed anisotropic properties.
Atoms can also form bonds that are intermediates between ionic and covalent. This is because these definitions are based on the extent of electron delocalization. Electrons can be partially delocalized between atoms, but spend more time around one atom than another. This type of bond is often called "polar covalent".
These chemical bonds are intramolecular forces that keep atoms held together in molecules. There are also intermolecular forces that cause molecules to be attracted or repulsed by each other. These forces include ionic interactions, hydrogen bonds, dipole-dipole interactions, and induced dipole interactions.
Linus Pauling's book The Nature of the Chemical Bond is perhaps the most influential book on chemistry ever published. Template:Chem clipart
See also