Cass Gilbert
From Academic Kids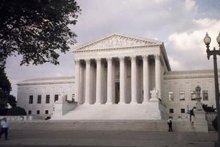 Cass Gilbert
(
November 29
,
1859
-
May 17
,
1934
) attended
MIT
and worked for a time with the firm of
McKim, Mead, and White
. His public buildings in the
Beaux Arts
style reflect the optimistic American sense that the nation was the heir of Greek democracy, Roman law and Renaissance humanism. Gilbert is rated as a skyscraper pioneer, but the cladding of his buildings looked back to
Neoclassicism
rather than embracing modernity. His high reputation plunged among professionals during the age of
Modernism
, but ordinary people have always been uplifted by the reassuring sense of continuity that his rich and sober but slightly bland designs offer.
His works include:
Minnesota State Capitol, St Paul, 1895 - 1905, in High Renaissance style, was not a mere replica of the US Capitol. Local newspapers made a fuss when Gilbert sent to Georgia for marble, but the result, in which a hemispherical dome caps a high drum not unlike Saint Peters over a range of buildings expressing the bicameral legislature, was so nobly handsome that West Virginia and Arkansas contracted for Gilbert capitols too. Its brick dome is held in hoops of steel.
Woolworth Building, New York, New York, 1913, his Gothic skyscraper clad in terracotta panels, the tallest building in the world when built. Gargoyles depicting Woolworth and Gilbert, among others, are visible above the main entrance on Broadway
Saint Louis Art Museum, known as the Palace of the Fine Arts, for the 1904 Louisiana Purchase Exposition in St. Louis, Missouri. The Art Museum was the only major building of the fair built as a permanent structure
the neo-Italian Renaissance St. Louis Public Library, St. Louis
Brooklyn Army Terminal, Sunset Park area of Brooklyn, NY, 1918.
West Virginia State Capitol, Charleston, WV, 1924-1932
Plans for cladding the George Washington Bridge, New York, in classicizing masonry, 1926, not carried out
Fountain in Ridgefield, Connecticut, which is at the intersection of Rtes 35 and 33. This fountain was given to the town by Cass Gilbert, who lived in town for a period. In 2004, a man test driving a Hummer ran into the fountain and completely destroyed it. A new fountain in the exact same style has since been completed.
New York Life Insurance Building, 1928.
United States Supreme Court building, Washington, DC (illustrated, right), Gilbert's last major project. He died a year before it was completed. A vast Roman temple in the Corinthian order is penetrated by a cross range articulated with pilasters in very low relief. The central tablet in the richly sculpted frieze reads EQUAL JUSTICE UNDER LAW. His design for the US Supreme Court chambers was based upon his design for the West Virginia Supreme Court of Appeals in at the state capitol in Charleston. The pediment sculptures Liberty attended by order and Authority (great lawgivers Moses, Confucius and Solon are on the West Portico) were executed by Herman A. MacNeil.
Gilbert's drawings and correspondence are preserved at the New-York Historical Society.
External links