Canadian Grand Prix
From Academic Kids
Template:F1 race The Canadian Grand Prix (known in its native French as the Grand Prix du Canada) is a Formula One auto race held in Canada since 1967. It was first staged at Mosport Park in Bowmanville, Ontario and alternated Mont Tremblant-St Jovite Saint-Jovite, Quebec until 1978 when Montreal became its perrmanent home.
The first winner in Montreal was Quebec native, Gilles Villeneuve who died in 1982 on the final qualifying lap for the Belgian Grand Prix. A few weeks after his death, the race course in Montreal was named Circuit Gilles Villeneuve after him.
The 1997 Canadian Grand Prix was stopped early due to a huge accident involving Olivier Panis. Panis spun off and broke his legs. He was sidelined for nine races and some see it as the turning point in the career of the 1996 Monaco Grand Prix winner.
In 1999, the final corner of Circuit Gilles Villeneuve became well-known for catching out former World Champions. Damon Hill, Michael Schumacher and Jacques Villeneuve all crashed into the same wall. The wall also caught out Ricardo Zonta, who, at the time, was a reigning sports car champion.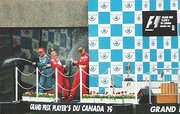 Because of tobacco legislations, new venues, and a maximum of 17 races on the schedule, the Canadian Grand Prix was preliminarily removed from the 2004 F1 schedule. However, Canadian officials were able to raise enough money to keep a Grand Prix race, with the FIA allowing expansion to an 18 race schedule.
Winners of the Canadian Grands Prix
External link
Official website (http://www.grandprix.ca/)
de:Großer Preis von Kanada
es:Gran Premio de Canadá fr:Grand Prix automobile du Canada it:Gran Premio del Canada sv:Kanadas Grand Prix