Brown recluse spider
From Academic Kids
The brown recluse spider is a venomous spider of the family Sicariidae (formerly of the family Loxoscelidae) and the genus and species Loxosceles reclusa. It is usually between 1/4 and 3/4 inch (6.4-19.1mm) but may grow larger. It is brown and usually has markings on the dorsal side of its thorax, with a black line coming from it that looks like a violin with the neck of the violin pointing to the rear of the spider resulting in the nickname "fiddleback spider" or "violin spider". (Some claim the existence of another spider species more properly known as the violin spider; however there seems to be little avaiable research concerning this latter species). Coloring varies from light tan to brown and the violin marking may not be visible.
Recluse spiders, which also include Mediterranean recluse spider (Loxosceles rufescens), build irregular webs that frequently include a shelter consisting of disorderly threads. Unlike most web weavers, they leave these webs at night to hunt. People get bitten when they unintentionally squeeze them in clothing and bedding.
These spiders frequently build their webs in woodpiles and sheds, closets, garages, and other places that are dry and generally undisturbed.
Brown recluse spiders are found primarily in the Southern and Midwestern United States.
A venomous bite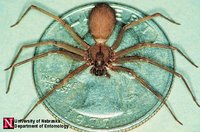 As indicated by its name, this spider is not aggressive and usually bites only when disturbed. Actual brown recluse bites are rare. The initial bite frequently cannot be felt. Most bites are minor with no necrosis, but a small number produce severe systemic conditions. The serious bites form a necrotising ulcer that destroys soft tissue and may take months to heal, leaving deep scars. The damaged tissue will become gangrenous and eventually slough away.
Initially there may be no pain from a bite, but over time the wound may grow to as large as 10 inches (25 cm). Death occasionally results, but is quite rare, more likely to happen with young children. Bites may take up to seven hours to cause visible damage; more serious systemic effects may occur before this time, as venom of any kind spreads throughout the body in minutes.
First aid involves the application of an ice pack to control inflammation, and prompt medical care. If it can be easily captured, the spider should be brought with the patient in a clear, tightly closed container so it may be identified.
Other conditions are often misdiagnosed as brown recluse bites. It is estimated that 80% of reported brown recluse bites could be misdiagnoses. The misdiagnosis of a wound as a brown recluse bite could delay proper treatment of serious diseases ([1] (http://www.ama-assn.org/amednews/2002/08/05/hlsa0805.htm)). There is now a test for brown recluse venom that can determine if a wound is a brown recluse bite.

Reported cases of bites occur primarily in Texas, Kansas, Missouri, and Oklahoma. There have been many reports of brown recluse bites in California (and elsewhere outside the range of the brown recluse); however the brown recluse is not found in California (though two related species may be found there). Many arachnologists believe that many bites attributed to the brown recluse in California were instead the bites of other spider species (such as the hobo spider, which produces similar symptoms, and is found in the western United States), or else were not spider bites at all.
Lookalikes
Sometimes, a spider of a different species may be mistaken for a brown recluse spider. These include the southern house spider. These species are generally harmless.
Male southern house spiders very closely resemble brown recluses, having similar coloration and body structure (though they have slender bodies and are uniformly brown, unlike the brown recluse). They mainly wander in search of females to mate with, having no particular territory. Females are more compact, dark brown or black, and rarely seen, building webs along crevices (for which reason they are also called crevice spiders); they seldom move except to capture prey caught in the web.
Southern house spiders may sometimes appear to be aggressive, but they do not bite unless trapped, and they are too small to easily penetrate human skin. They do, however, have an unnerving tendency to crawl across anything in their path regardless of whether it is alive. This is not aggression; these spiders are simply nearly blind and cannot see larger animals. Indeed, these spiders instinctively play dead if they feel threatened (a tactic which is effective against their common predators).
A spider playing dead will try to run if anything touches it, or bite if it cannot run.