Bobby Jones (golfer)
From Academic Kids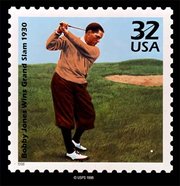 Robert Tyre Jones Jr. (March 17, 1902–December 18, 1971) was a golf champion of the early 20th century. He was born in Atlanta, Georgia and is buried in Oakland Cemetery, also in Atlanta.
Known as "Bobby" or "Bob", Jones was arguably the greatest player who ever competed on a national and international level. Between 1923 and 1930 he won 13 major championships (as they were counted at that time; 7 as they are counted now), which ranks him only second behind Jack Nicklaus and his 20 (or 18) majors.
Jones was the youngest player to ever play in a U.S. Amateur Championship Golf tournament. Jones was the first player to win The Double, both the US Open and The Open Championship (British Open) in the same year.
Bobby Jones along with Alister McKenzie designed the Augusta National golf course and started The Masters golf tournament held at Augusta each year.
Jones was equally successful as an academic as a golfer. He earned a BS in Mechanical Engineering from Georgia Tech and a BA in English Literature from Harvard. He later went to Emory University to pursue a degree in law. When Jones retired from golf at age 28, he concentrated on his law practice.
The 2004 biopic, Bobby Jones: A Stroke of Genius, starring Jim Caviezel, is based on his life.
Bobby Jones' Major Championship Wins
1923: U.S. Open
1925: U.S. Amateur
1926: The Open Championship, U.S. Open
1927: The Open Championship, U.S. Amateur
1928: U.S. Amateur
1929: U.S. Open
1930: British Amateur, The Open Championship, U.S. Open, U.S. Amateur
Despite the similarity of their names and professions, he is not related to famous golf course architect Robert Trent Jones, although the two men did collaborate on the design of several golf courses.
See also
External links