Bob Graham
From Academic Kids
This article is about the American politician. For Bob Graham the English Lakeland fell-runner and his long-standing Lakeland 24-hour record see Bob Graham Round.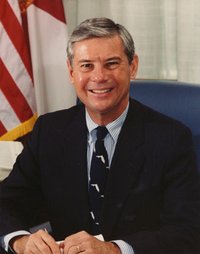 Daniel Robert Graham (born November 9, 1936) is an American politician. He was a U.S. Senator from Florida from 1987 to 2005 and the governor of that state from 1979 to 1987. Following a failed bid for the Democratic Party nomination in the 2004 presidential race, Graham was considered a possible running mate for John Kerry.
Graham dropped out of the race for the Democratic presidential nomination on October 6, 2003 and announced his retirement from the Senate on November 3, 2003.
Personal background
He was born in Dade County, Florida. He married the former Adele Khoury, of Miami Shores, in 1959. They have four daughters: Gwen Graham Logan, Cissy Graham McCullough, Suzanne Graham Gibson and Kendall Graham Elias. The Grahams also have 10 grandchildren as of 2003.
Graham is the son of Ernest "Cap" Graham, a Florida state senator, mining engineer, and dairy/cattleman, and Hilda Simmons Graham, a schoolteacher. He is the youngest of four children. His siblings are the late Philip Graham; William Graham of Miami Lakes, Florida; and the late Mary Crow. His brother Philip was the husband of Washington Post publisher Katharine Graham.
Bob Graham was the student body president of Miami Senior High School, graduating in 1955. He received a bachelor's degree in 1959 from the University of Florida, where he was Phi Beta Kappa and a member of Florida Blue Key. He went on to receive an LLB from Harvard Law School in 1962.
Workdays
Bob Graham began Workdays in 1974, teaching a semester of civics at Carol City Senior High School in Miami while serving in the Florida Senate. He performed 100 Workdays in 1986 during his first successful campaign for U.S. Senate. Since then, he has completed 386 Workdays, more than a year's worth of days spent laboring side-by-side with the people he represents. His Workdays are an extension of his belief in a personal style of governing.
Graham has continued doing Workdays throughout his tenure as governor and in the United States Senate. His jobs have included service as a police officer, railroad engineer, construction worker, fisherman, garbageman, factory worker, busboy, and teacher. On No. 365, he checked in customers, handled baggage and helped serve passengers on US Airways.
Political career
Graham is a Democrat who has never lost an election. He was first elected to the Florida House of Representatives in 1966 and reelected in 1968. He was elected to the Florida State Senate in 1970 and was reelected 1974.
Governor of Florida
Bob Graham was elected Governor of Florida in 1978 after a seven-way Democratic primary race in which he initially placed second to Robert L. Shevin. His supporters at the time dubbed themselves "Graham crackers." Graham was reelected in 1982 with 65% of the vote, defeating Republican Skip Bafalis.
U.S. Senator
Graham was then elected to the U.S. Senate in 1986, defeating incumbent Sen. Paula Hawkins 55 to 45 percent. He was re-elected in 1992 (over Bill Grant, 66-34) and 1998 (over Charlie Crist, 63-37).
He has a quirky habit of keeping a detailed log of his daily activities on color-coded notebooks, which some say may have cost him a spot on past vice-presidential tickets. He keeps all of these notes in a file cabinet arranged by month and year. A great champion for his home state, Graham always kept Florida orange juice on hand in his Senate office and was rarely seen without his trademark Florida tie.
Early in 2003, Graham underwent heart surgery and received a transplanted valve from the heart of a Holstein cow.
He is a cosponsor of the bill to create a Director of National Intelligence.
Presidential candidate
Graham announced his candidacy for President of the United States in the 2004 election on the Democratic ticket on February 27, 2003. However, on October 7, 2003, he announced (with polls showing him in last place among a field of ten candidates) he was ending his presidential campaign, saying he started his campaign too late and had trouble raising money. In November, he announced that he would not seek another term in the Senate.
After John Kerry became the presumptive Democratic nominee for president in March 2004, there was some discussion in the media that Graham might be on the short list of Kerry's choices for vice president, presumably at least in part because having Graham on the ticket could help Kerry win Florida in the presidential election. Shortly before Kerry chose Sen. John Edwards, the Kerry campaign printed "Kerry-Graham" posters and bumper stickers in case Edwards declined to be Kerry's running mate. Many wonder whether Graham's selection as a vice presidential candidate would have won Florida, and thus, the presidency, for the Democrats.
Graham has since expressed a desire to start a special institute in Florida that would train future political leaders.
Business career
The Graham dairy in Miami Lakes was redeveloped into a residential and commercial community during the 1970s and 1980s, under the leadership of Bob Graham's brother William. To this day, Bob Graham still owns a significant share of the Graham Companies, which is estimated to be worth around $10 million. To avoid a potential conflict of interest, his various investments, including his share in the Miami Lakes development, are managed by a proxy and reported to Graham at the end of each year. Graham's total net worth is estimated to be somewhere between $7.35 million and $31.7 million.
External links