Bilingual (album)
From Academic Kids

Bilingual is the tenth album, the sixth of entirely new music, by the UK electronic music group Pet Shop Boys. It was first released in 1996.
Bilingual exhibits continuing changes Pet Shop Boys began making to their music with the album Very, in particularly more heavily instrumented arrangements and more backing vocals. However, the album also represents a big shift in style from the duo's roots in electronic pop to more modern dance music influences, particularly trance and house music. As suggested by the title, three of the songs are bilingual, two with both English and Spanish lyrics, and one with Portuguese and English lyrics. There is also significant latin music influence.
Bilingual never achieved the popularity of Very, although some of the Bilingual EPs were very popular among fans. The limited edition 2-disc set Bilingual/Remixed and some of the EPs contain a cover of "Somewhere" from West Side Story, and remixes thereof, which is considered by many fans to contain the group's best symphonic arrangement.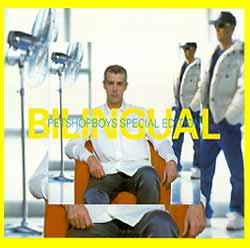 Bilingual was rereleased in 2001 (as were most of the group's albums up to that point) as Bilingual/Further Listening 1995-1997. The rereleased version was not only digitally remastered but came with a second disc of B-sides and previously unreleased material from around the time of the album's original release, including some material from Bilingual/Remixed.
Tracklisting
Discoteca
Single
Metamorphosis
Electricity
Se A Vida E (That's The Way Life Is)
It Always Comes As A Surprise
A Red Letter Day
Up Against It
The Survivors
Before
To Step Aside
Saturday Night Forever