Bernie Mac
From Academic Kids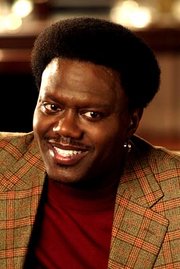 Bernie Mac (born Bernard Jeffrey McCollough, October 5, 1958) is an African-American actor and comedian.
Bernie Mac started his career as a stand-up comedian in Chicago. He won the Miller Lite Comedy Search in 1990 and his popularity as a comedian began to grow. He opened for Dionne Warwick, Redd Foxx and Natalie Cole and had a number of HBO comedy specials, which helped increase his popularity further.
Bernie Mac also began acting in minor roles, but received his big break as Pastor Clever in Ice Cube's 1995 film, Friday. Following that role, Bernie Mac would also work in many other movies, including Booty Call, How to Be a Player, Life and What's the Worst That Could Happen? Bernie Mac was also one of the few African-American comedic actors to be able to break out of the traditional "black comedy" genre, having roles in the remake of Ocean's Eleven and becoming the new Bosley for the Charlie's Angels sequel, Charlie's Angels: Full Throttle.
In 1997, Bernie Mac continued with his stand-up comedy roots, touring the country as one of the Kings of Comedy, along with Steve Harvey, Cedric the Entertainer and D.L. Hughley. The comedy act would later be put into a film by Spike Lee called The Original Kings of Comedy.
In 2001, the Fox Network gave Bernie Mac his own prime-time television show called The Bernie Mac Show. The show, based on his own life, in which he suddenly becomes custodian over his sister's three children, has been a huge success in part because it allows Bernie Mac to stay true to his stand-up comedy roots, breaking the fourth wall to communicate his thoughts to the audience.
In 2004, he had his first starring role as a retired baseball player in the movie Mr. 3000.
In February 2005, Bernie Mac announced that he has sarcoidosis, a rare autoimmune disease that causes inflammation of the body's tissues, frequently in the lungs. In the announcement, he said that he has suffered from the disease since 1983.
Partial filmography
Missing image
Movie_mr_3000_poster.jpg
Mr. 3000 movie poster


External link