Benetton Formula
From Academic Kids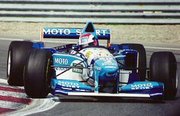 Benetton Formula Ltd., commonly referred to simply as Benetton, was a Formula One constructor that participated from 1986 to 2001. The team was owned by the Benetton family who ran a worldwide chain of clothing stores of the same name.
The Benetton team was built on the ashes of the Toleman team, who performed well in 1984 with then-beginner Ayrton Senna, but could not compete in 1985 because it had no contract with a tyre manufacturer.
The racing team itself was managed by Flavio Briatore until 1997.
The Benetton team is best known for its success with Michael Schumacher. He accounts for 21 of the team's 27 career victories and their 2 driver's championships. They won the constructor's championship in 1995 with Schumacher and Johnny Herbert.
Benetton began with BMW engines and then switched to Ford.
After Schumacher's first title Benetton switched to the Renault V10.
After 1995, Schumacher moved to Ferrari along with Ross Brawn, Nigel Stepney and several other key figures from his two championship winning seasons with Benetton. From this point, the Benetton team was never what it once was.
The team was sold for the 2001 season to Renault. Renault brought back Flavio Briatore as team manager. During the 2001 season the drivers Jenson Button and Giancarlo Fisichella were often on the back two rows of the grid. This was in part attributed to the new 110-degree wide angle engine.
The team was renamed Renault F1 for 2002.
Benetton Alumni
Former drivers for Benetton include: