Banff, Alberta
From Academic Kids
Banff (Template:Coor dm Elevation: 4800 feet) is the largest town situated within Banff National Park above the Bow Falls just before the junction of the Bow River and Spray Rivers and is known for its mountainous surroundings and hot springs. The town was founded by the Canadian Pacific Railway in 1880 as a destination for tourists and built the Banff Springs Hotel to service them. It remains one of the more popular tourist destinations in Canada.
Banff is about 140 kilometres west of Calgary on the Trans-Canada Highway. Banff is 58 km east of Lake Louise. It was named after the burgh of Banff in Scotland. The town is now a member of the Calgary Regional Partnership, making it the westernmost municipality within Greater Calgary.
Missing image
Banff_from_Sulfur_Mtn..jpg
A Parks Canada information centre is located within the town which provides current trail conditions for hiking, scrambling and skiing. Several mountains are visible from the town, including the well known Mount Rundle overlooking the townsite at 2,846 metres (9,338 ft), Cascade Mountain 2,846 metres (9,338 ft) and Mount Norquay with ski slope. A gondola lift is available for ascending Sulphur Mountain where a boardwalk starting from the upper terminal takes visitors to Sanson Peak.
The town's growth in recent years (by the standards of some provinces it has sufficient population to be considered a city) has led to concerns by environmentalists who fear the town's growth will harm the wilderness of the surrounding national park. The federal government has attempted to address this by restricting development in the town, and mandating that only people who are employed or otherwise have ongoing business in Banff (plus their immediate families) may take up permanent residence in the community.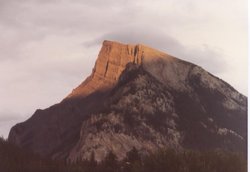 External links
Missing image
Cascade_Mtn_from_Canmore.jpg
Surrounding municipalities
de:Banff (Alberta)