Bacillus subtilis
From Academic Kids
Bacillus subtilis is a Gram-positive, rod-shaped, aerobic bacterium that is commonly found in soil. An important property of Bacillus subtilis is its ability to form a tough, protective endospore, which allows it tolerate extreme environmental conditions.
It is not considered a human pathogen, but can contaminate food and rarely cause food poisoning.
B. subtilis has proven highly amenable to genetic manipulation, and has therefore become widely adopted as a model organism for laboratory studies, especially of sporulation, which is a simplified example of cellular differentiation. In terms of popularity as a laboratory workhorse B. subtilis can be considered the Gram-positive equivalent of E. coli, an extensively studied Gram-negative rod.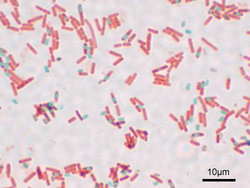 de:Bacillus subtilis