B-2 Spirit
From Academic Kids
The B-2 Spirit, sometimes known as the B-2 Bomber, is an American multi-role stealth bomber capable of delivering both conventional and nuclear weapons. A dramatic leap forward in technology, the bomber represented a major milestone in the U.S. bomber modernization program. The B-2 is the most expensive plane built to date, costing approximately $2.2 billion USD per plane. [1] (http://www.fas.org/man/gao/gao94217.htm) Some writers have suggested that the huge program cost may actually include costs for other black projects that remain classified. The high per-unit cost may also be partially explained by the small number of planes produced coupled with a large research overhead in the B-2 program (see below).
Originally designed to deliver nuclear weapons during the Cold War [2] (http://www.globalsecurity.org/military/library/report/1991/HLM.htm), support for the B-2 dwindled as military spending declined in real dollars during the Clinton Administration. In May of 1995, in a study commissioned by Congress, the Institute For Defense Analysis concluded that after the demise of the Soviet Union, there was no need for more B-2s. As a result of public outcry over its cost, opposition from the Pentagon's Joint Chiefs of Staff and increasing opposition in the U.S. Congress, only 21 B-2s have been produced instead of a total of 120 planes as had been proposed. Given that much of the cost of the B-2 was in research and development, the cost per unit would have been much lower if all 120 had been produced. The B-2 can potentially bring massive firepower to bear anywhere on the globe. Its stealth technology is intended to help it penetrate previously impenetrable defenses.
Features
Missing image
B2_spirit.jpg
Along with the B-52 Stratofortress and B-1B, the U.S. military contends that the B-2 provides the penetrating flexibility and effectiveness inherent in manned bombers. Its low-observable, or "stealth," characteristics give it the ability to penetrate an enemy's most sophisticated defenses and threaten its most valued, and heavily defended, targets. Its capability to penetrate air defenses and threaten effective retaliation should provide a strong, effective deterrent and serious combat force well into the 21st century.
The revolutionary blending of low-observable technologies with high aerodynamic efficiency and large payload gives the B-2 important advantages over pre-existing bombers. Its unrefueled range is approximately 6,000 nautical miles (11,100 km). Its low-observability provides it greater freedom of action at high altitudes, thus increasing its range and a better field of view for the aircraft's sensors. With its GPS Aided Targeting System (GATS) it can use its radar to correct GPS errors of targets and gain laser type accuracy with cheap bombs. It can destroy 16 targets in a single pass.
The B-2's low observability is derived from a combination of reduced infrared, acoustic, electromagnetic, visual, and radar signatures, making it difficult for defensive systems to detect, track and engage. Many aspects of the low-observability process remain classified; however, the B-2's composite materials, special coatings, and flying wing design all contribute to its "stealthiness."
The B-2 has a crew of two pilots, a pilot in the left seat and mission commander in the right, compared to the B-1B's crew of four and the B-52's crew of five.
History
The B-2 started life as a "black program" known as the High Altitude Penetrating Bomber (HAPB), it then became the Advanced Technology Bomber (ATB) and used the project code word Senior Cejay, it later became the B-2 Spirit. An estimated 23 billion dollars was secretly spent for research and development on the B-2 in the 1980s. An additional cost driver was the mission was changed from a high altitude bomber to a low altitude penetrating bomber in 1985 which required a major redesign. Because the development of the B-2 was one of the best kept secrets of all USAF programs, there was no opportunity for public criticism of its massive cost during the development process. The first B-2 was publicly displayed on November 22, 1988, when it was rolled out of its hangar at Air Force Plant 42, Palmdale, California, where it was manufactured. Its first flight was on July 17, 1989. The B-2 Combined Test Force, Air Force Flight Test Center, Edwards Air Force Base, Calif., is responsible for flight testing the engineering, manufacturing and development aircraft.
The first aircraft, named Spirit of Missouri, was delivered on December 17, 1993. Depot maintenance responsibility for the B-2 is held by Air Force contractor support and is managed at the Oklahoma City Air Logistics Center at Tinker Air Force Base in Oklahoma.
The prime contractor, responsible for overall system design and integration, is Northrop Grumman Integrated Systems Sector. Boeing Integrated Defense Systems, Hughes Radar Systems Group, General Electric Aircraft Engine Group and Vought Aircraft Industries, Inc., are key members of the aircraft contractor team. Another major contractor, responsible for aircrew training devices (weapon system trainer and mission trainer) is Link Simulation & Training, a division of L-3 Communications formerly Hughes Training Inc. (HTI). [3] (http://www.link.com/b2atd.html) Link Division, formerly known as CAE - Link Flight Simulation Corp. Link Simulation & Training is responsible for developing and integrating all aircrew and maintenance training programs. The military contractors for the B-2 engaged in massive lobbying campaigns to gain Congressional support for its funding.
Whiteman Air Force Base in Missouri was the B-2's only operational base until early 2003, when facilities for the B-2 were constructed on the joint U.S./U.K. military base on the British island of Diego Garcia in the Indian Ocean, followed by deployment to Guam in 2005. Facilities for the aircraft also appear to have been constructed at RAF Fairford in Gloucestershire in the United Kingdom.
Units using the B-2
United States Air Force
Combat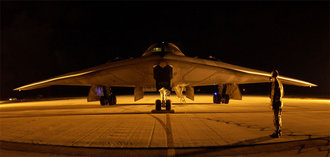 The B-2 was derided by many as being too expensive to risk in combat. However, the aircraft has seen service in three separate campaigns.
Its first combat was during the Kosovo War in 1999. The aircraft performed well, and it introduced the satellite guided JDAM bomb to the world as well. Since then the aircraft has seen combat over Afghanistan and Iraq.
The missions to Afghanistan saw a first for the aircraft. After flying bombing missions over Afghanistan, the aircraft concerned landed at Diego Garcia, were refueled and had a crew change before launching on another combat mission. This was taken a step further during the Iraq campaign when B-2s were actually based at Diego Garcia.
Later missions to Iraq were launched and returned to Whiteman AFB in Missouri. This resulted in missions lasting over 30 hours and even one mission of over 50 hours. B-2 crews have been used to pioneer sleep cycle research to improve combat crew performance over extended periods.
Trivia
Weighing in at 2,300,000 troy ounces (71,668 kg), each B-2 cost over $950.00 per troy ounce ($30/g) which is two or three times more than its weight in gold.
Specifications (B-2A)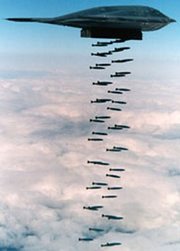 General characteristics
Crew: 2
Length: 69 ft (21 m)
Wingspan: 172 ft (52.1 m)
Height: 17 ft (5.1 m)
Wing area: 5,000 ft² (460 m²)
Empty: 158,000 lb (71,700 kg)
Loaded: 336,500 lb (152,600 kg)
Maximum takeoff: 336,500 lb (152,600 kg)
Powerplant: 4× General Electric F-118-GE-100 turbofans; 17,300 lbf (77kN) thrust each
Performance
Maximum speed: Mach 0.85
Maximum speed: 560 knots (1,000 km/h)
Range: 6,500 nmiles (12,000 km)
Service ceiling: 50,000 ft (15,152 m)
Rate of climb: ft/min (m/min)
Wing loading: 67.3 lb/ft² (329 kg/m²)
Thrust/weight ratio: 0.205:1
Armament
40,000 lb (18,000 kg) of bombs
Related content
Template:Commons Related development:
Comparable aircraft:
Designation series: B-1 - B-2
Variants: B-2A
See also:
de:Northrop B-2
es:B-2 Spirit fr:Northrop B-2 Spirit he:B-2 nl:B-2 Spirit pt:B-2 Spirit ja:B-2 (爆撃機) no:B-2 Spirit pl:B-2 Spirit fi:B-2 Spirit zh:B-2幽灵隐形战略轰炸机