Antonov An-124
From Academic Kids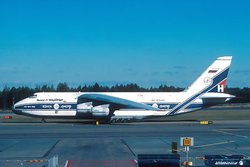 The Antonov An-124 Ruslan (NATO reporting name: Condor) is the largest aircraft ever mass produced, and was, until the advent of the Antonov An-225, the largest aircraft in production. It flew for the first time in 1982. Over forty are currently in service in Russia and Ukraine.
Physically, the An-124 is similar to the American Lockheed C-5 Galaxy, but is larger in many dimensions. An-124s have been used to carry locomotives, yachts, aircraft fuselages, and a variety of other oversized cargoes. Up to 150 tonnes of cargo can be carried in a military An-124: it can also carry 88 passengers in an upper deck behind the cockpit.
Germany intends to lease An-124s for NATO strategic airlift requirements as a stopgap until the Airbus A400M is available [1] (http://news.org.ua/reports/?id_numb=1515). Boeing also has used Russian cargo company Volga-Dnepr to ship outsize aircraft components to their Everett plant with their An-124 fleet. Specifically, the An-124 is the only means of airlifting the General Electric GE90 turbofan engines used in the Boeing 777 airliner.
As of 2004, there have been four major crashes of An-124s, with a total of 50 fatalities.
Notable Mention
An An-124 was used to transport the Obelisk of Axum back to its native homeland of Ethiopia in April of 2005. The shipment was done in three trips, each carrying a third of the monument's 160 tons and 24-metre (78 ft) length. Modifications were done to the airstrip at Axum in order to accommodate such a large aircraft.
A Ukrainian An-124 was featured in the James Bond film Die Another Day, although the interior shots appear to be of an Ilyushin Il-76.
Specifications
General characteristics
Crew: 6
Capacity: 88
Length: 68.96 m (226 ft 3 in)
Wingspan: 73.3 m (240 ft 5 in)
Height: 20.78 m (68 ft 2 in)
Wing area: 628 m² (6,760 ft²)
Empty: 79,400 kg (175,000 lb)
Loaded: 229,000 kg (505,000 lb)
Maximum takeoff: 405,000 kg (893,000 lb)
Performance
Maximum speed: 865 km/h (468 knots)
Range: 4,500 km (2,400 nmiles)
Service ceiling: 35,000 m (12,000 ft)
Rate of climb: m/min ( ft/min)
Wing loading: 365 kg/m² (74.7 lb/ft²)
Thrust/weight ratio: 0.901:1
References and external links
Related content
Related development: An-225
Comparable aircraft: C-5 Galaxy
Designation sequence: An-72 - An-74 - An-88 - An-124 - An-140 - An-148 - An-174
See also: List of civil aircraft

Template:Antonov Russian airliners
de:Antonow An-124
ja:An-124 (輸送機) pl:An-124 Rusłan ru:Ан-124 sl:Antonov An-124 Ruslan