Annette Funicello
From Academic Kids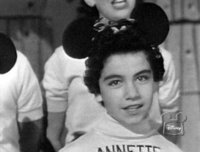 Annette Funicello (born October 22, 1942) was one of Walt Disney's most popular Mouseketeers.
Born in Utica, New York, she took dancing and music lessons as a child and was discovered by Disney while performing in Swan Lake.
She was cast as one of the original "Mouseketeers", and went on to television roles in Zorro and Elfego Baca, and Disney-produced movies such as The Shaggy Dog, Babes in Toyland, The Misadventures of Merlin Jones, and The Monkey's Uncle.
Annette had a number of pop record hits in the late 1950's and early 1960's, including: "Tall Paul," "First Name Initial," "O Dio Mio," "Train of Love" (written by Paul Anka) and "Pineapple Princess."
After maturing, she became a teen idol and went on to star in a series of "Beach Party" movies with Frankie Avalon including Beach Party, Muscle Beach Party, Bikini Beach and Beach Blanket Bingo. Although Funicello said in interviews that the reason she never wore a bikini or was scantily clad in these films is because she made a promise to Walt Disney that she would never show her navel in a film, she does in fact wear navel-baring two-piece bathing suits in both Beach Party and Muscle Beach Party, and wears a (relatively modest) bikini in Bikini Beach. Funicello and Avalon re-united in 1987 for Back to the Beach, and toured the country as a singing act. After keeping it a secret for years, Annette announced in 1992 that she had begun suffering from multiple sclerosis.
Her autobiography, published in 1994, is A Dream Is a Wish Your Heart Makes: The Annette Funicello Story. A made-for-TV movie based on the book was made the following year.
Filmography
She also made cameo appearances in Ski Party (1965), Dr. Goldfoot and the Bikini Machine (1965), Head (1968), and Troop Beverly Hills (1989).nl:Annette Funicello