Anna Stuart
From Academic Kids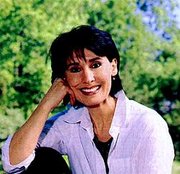 Anna Stuart (born November 1, 1948 in Bluefield, West Virginia) is an American actress.
She is most known for her role as Donna Love on Another World, which she played from 1983 to 1986 and from 1989 to 1999. Stuart took storyline dictated sabbaticals from her role as Donna in 1990 and 1993, only to return fairly quickly, as Stuart proved to be a favorite amongst fans.
The role of Donna Love was as a savvy businesswoman, and was rewritten in the early 1990s to accommodate a May-December romance with Matthew Cory (Matt Crane), which proved to be very popular. As the 1990s went on, however, the character was written in such a way that longtime viewers did not recognize the roots from whence she came. Stuart was quoted in Soap Opera Digest after Another World's cancellation as saying that if the show were not canceled in 1999 when it was, she would have left the role due to her disapproval regarding her character's direction. After the cancellation of AW Stuart, along with several castmembers played their characters on the soap opera As The World Turns in an attempt to lure fans of Another World to watch the other soap.
When Stuart left the show for the first time in 1986, the role of Donna was recast with Philece Sampler, who first became known as Renee Dumonde on Days of Our Lives in the early 1980s. The recast was panned by soap periodicals and after two years, Sampler's contract was terminated when Stuart expressed interest to return to Another World.
Stuart got her start on The Doctors as Toni Ferra Powers, a role she played from 1971 to 1977. It was her stint on The Doctors that first made a name for Stuart in the genre. She followed up her work on The Doctors originating the role of Dr. Gina Dante Lansing on rival soap General Hospital.
In 1981, she filled in for Maeve Kinkead on Guiding Light as Vanessa Chamberlain while Kinkead was on maternity leave, and in April 2002 she filled in for former Another World co-star Linda Dano as Rae Cummings on One Life to Live while Dano was on leave.
Since 2002, she has played the role of Mary Smythe on All My Children where she played opposite former Another World castmate Mark Pinter. Originally only meant to be written in for a few episodes, the fan base that Stuart had earned on Another World migrated over to All My Children, and Stuart was asked back for more episodes in 2003, 2004 and 2005.
Television Filmography