Andreas Razumovsky
From Academic Kids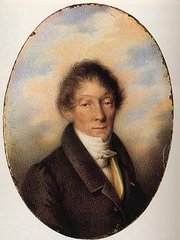 Count, later Prince Andrey Kyrillovich Razumovsky, or: Rasumovsky (November 2, 1752 – September 23, 1836) was a Russian diplomat who spent many years of his life in Vienna. His commissioning three string quartets from Beethoven in 1806 was the act that has made his name familiar. In two of the quartets, Beethoven introduced "Russian" themes to compliment his patron. Razumovsky was the brother-in-law of Beethoven's patron Prince Lobkowitz.
Razumovsky was the son of Cyril Razumovsky, the last hetman of Ukraine, and nephew of Aleksey Grigorievich Razumovsky, called the Night Emperor. The elder Rasumovsky's late Baroque palace on the Nevsky Prospect is a minor landmark in Saint Petersburg. In 1792 Andres Kyrillovitch was appointed the Tsar's diplomatic representative to the Habsburg court in Vienna, one of the crucial diplomatic posts during the Napoleonic era. He was a chief negotiator during the Congress of Vienna that resettled Europe in 1814, and asserted Russian rights in Poland.
In 1808 he established a house string quartet consisting of Ignaz Schuppanzigh, Weiss, Kraft and Sina.
The Palais Rasumofsky
Missing image
Palais_Rasumofsky.jpg
image:Palais_Rasumofsky.jpg


The Palais Rasumofsky in Vienna
(contemporary etching by Eduard Gurk)
He built a magnificent Neoclassic embassy worthy of the representative of Alexander I, at his own expense, in Landstrasse, quite close to the city, and filled it with antiquities and modern works of art . On New Year's Eve 1814, he held a glittering ball with the new Tsar Nicholas I as guest of honor. Probably the only person in Vienna who was invited but did not go, was Beethoven. To accommodate the guests, Razumovsky erected a temporary ballroom extension, heated by a flue from the palace. After all the guests had gone, the flue caught fire, setting the ballroom ablaze and burning out roomfuls of art in the palace. Rasumovsky, though he was raised to Prince the following year, was never the same. He lived in seclusion in Vienna until his death in 1836.
There is a portrait of Razumovsky at the Vienna Kunsthistorisches Museum.
See also
Galitzine, about another Russian prince and patron of Beethoven
External links
Mad About Beethoven website: (http://www.madaboutbeethoven.com/pages/people_and_places/people_patrons/people_patrons_razumovsky.htm) Razumovsky and the tragic fire.