Alvin Ailey
From Academic Kids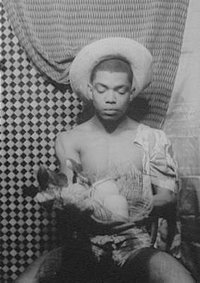 Alvin Ailey, Jr. (January 5, 1931 – December 1, 1989) was an African American gay dancer and choreographer who founded the Alvin Ailey Dance Theater.
Ailey was born to his 17-year-old mother in Rogers, Texas. At the age of six months, Ailey's father abandoned the family.
Alvin developed an early interest in art. Initially, he took dance classes from choreographer Katherine Dunham and later studied under Los Angeles dance teacher Lester Horton. After Hortonís death, Ailey took over his dance company.
He was a longtime lover of David McReynolds in the 1950s.
Ailey started his own dance company in 1958 featuring primarily African American dancers. After receiving reverse racism he integrated his dance company in 1963. The Alvin Ailey Dance Company popularized modern dance throughout the world with his international tours sponsored by the U.S. State Department.
Ailey was diagnosed with cytomegalovirus and an esophogeal ulcer (complications of AIDS) before passing away on December 1, 1989.
External link