Altrincham
From Academic Kids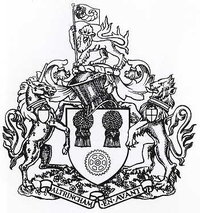 Altrincham (population 42,000) (pronounced "Oltringum") is a town to the south of Manchester in the Borough of Trafford in Greater Manchester. It is also bordered by the wealthy suburbs of Hale and Bowdon.
It was the birthplace of the actress Angela Cartwright. The dramatist Ronald Gow lived here in his youth, and later taught at the local grammar school.
Once a thriving textile town, Altrincham is now mainly residential. It is a good centre for local beauty spots including 18th-Century Dunham Massey Hall (National Trust) with its deer park. The historic market town, developed as a residential area in the 19th Century, preserves the best of the old world at its fascinating Old Market Place, with the best of the new on pedestrianised George Street where international fashion and high style interior design rubs shoulders with boutiques and speciality shops. Altrincham is located approximately 180 miles (290km) from London and has a population of 42,000.
Geography
Altrincham is located at 53°24'00" North, 02°21'00" West (53.4000, -2.3500)1, and at Template:Gbmapping