Allen Ludden
From Academic Kids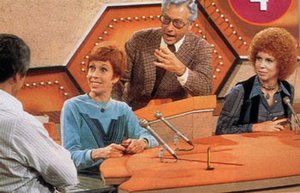 Allen Ludden (October 5, 1917 - June 9, 1981) was an American television presenter and game show host. He was born Allen Ellsworth in Mineral Point, Wisconsin.
Ludden hosted many game shows, including the GE College Bowl, but he was most famous for hosting both the daytime and primetime versions of Password on CBS and ABC from 1961 to 1975. He started hosting a daytime version of the game, Password Plus on NBC, in 1979, but illness forced him off the show in 1980.
At the time of his death, he was battling stomach cancer. He was posthumously awarded a star on the Hollywood Walk of Fame next to his widow Betty White's star. They met when she appeared on Password and they had been married since 1963.