Albert II, Prince of Monaco
From Academic Kids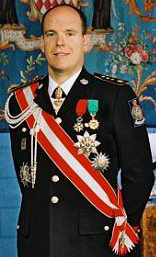 His Serene Highness Prince Albert II (Albert Alexandre Louis Pierre Grimaldi; born March 14, 1958), styled HSH The Sovereign Prince of Monaco, is the head of the House of Grimaldi and the current ruler of the Principality of Monaco.
He is the second child and only son of Rainier III and his American wife, the film star Grace Kelly, and became the reigning prince following his father's death on April 6, 2005. Prior to that, he had been the heir apparent, carrying the titles of HSH the Hereditary Prince of Monaco and Marquis of Baux; after his father became increasingly ill in early 2005, he was appointed regent, in which capacity he served for nearly a week during the last days of his father's life.
Early life
Born in Monaco, Albert attended the Albert I High School, graduating with distinction in 1976. He spent a year training in various princely duties, and enrolled at Amherst College in Massachusetts in 1977 as Albert Grimaldi, studying political science, economics, music, and English literature, and also joined Chi Psi fraternity. He spent the summer of 1979 touring Europe and the Middle East with the Amherst Glee Club and graduated in 1981 with a Bachelor of Arts degree in political science.
Life as Hereditary Prince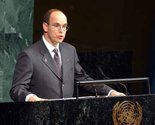 During school, Prince Albert distinguished himself as an enthusiastic athlete, participating in cross country, javelin, handball, judo, swimming, tennis, rowing, sailing, skiing, squash and fencing. He is also a patron of Monaco's various football teams. He competed in the bobsled at the 1988, 1992, 1994, 1998, and 2002 Winter Olympics.
On 25 October 2002, Prince Albert visited Miami, Florida for a World Olympians Association fund-raiser at the Biltmore Hotel in Coral Gables, Florida. The group's mission was to have the 100,000 or so Olympians around the world get involved with their communities and talk to young athletes about dedication and training.
Regency
On March 7 2005, Rainier was admitted to a hospital in the principality and on March 22 he was moved to intensive care. The Prince was being treated for breathing, kidney, and heart trouble. On March 31, 2005, the Palace of Monaco announced that Prince Albert would take over the duties of his father as Regent since Rainier was no longer able to exercise his royal functions. The 47-year-old prince spent his first day as regent of Monaco caring for his critically ill 81-year-old father, who was Europe's longest-serving living monarch.
Sovereign Prince of Monaco
On April 6, 2005, Albert became Albert II, Sovereign Prince of Monaco, upon the death of Prince Rainier III.
Prince Albert II will be enthroned as ruler of the Principality of Monaco on July 12, 2005 after the end of the three-month mourning period for his father.
He will be the principality's 30th monarch.
Bachelorhood
Over the years, there has been much discussion of the prince's continued bachelor status, though he has received much press attention for dating well-known fashion models and actresses, including Angie Everhart and Claudia Schiffer, as well as Penthouse Playmate Victoria Zdrok. His apparent disinclination to marry has given rise to rumors that he is gay, but Prince Albert has consistently denied this suggestion, most notably in a 1994 interview published in the French magazine "Madame Figaro". "At first it was amusing," he said, "but it becomes very irritating in the long term to hear people say that I am homosexual." Template:Ref
Paternity suits
In 1992, a California woman, Tamara J. Rotolo, filed a paternity suit against the prince, claiming that he was the father of her illegitimate daughter, whom she named Jazmin Grace Grimaldi. However, the case, which went to trial in 1993, eventually was dismissed by Superior Court Judge Graham Anderson Cribbs, who claimed that there was "insufficient contact between Albert and the state of California to justify hearing a suit there" (Evening Standard, March 24, 1993, page 20), agreeing with an assertion by the prince's lawyer, Stanley Arkin, that the California court had no jurisdiction. In court papers, Prince Albert admitted that he had been with Tamara Rotolo in Monaco on "a couple of occasions" in July 1991. (The child had been born approximately nine months later, on March 4, 1992.) As reported by a local newspaper covering the case, "Arkin asserted that the Riverside County court had no jurisdiction in the case since the romantic encounter supposedly occurred in Monaco and Albert has had no contacts with California that relate to the issues in the suit." Template:Ref Prince Albert has not agreed to Rotolo's request that he take a paternity test.
An earlier paternity suit, brought by Bea Fielder, a German topless model whom the Daily Telegraph described as a "sex-film star", reportedly also was dismissed. A blood test reportedly proved that the prince was not the father of Fielder's son, Daniel. Template:Ref
In May 2005, Nicole Coste, a former Air France stewardess from Togo, claimed that her youngest son, Alexandre, born August 24 2003, is the son of Prince Albert and that DNA tests conducted by technicians working on orders from the Monegasque government have proven her assertion. She further claimed that the prince had signed a notarized certificate confirming his paternity but that she had not received a copy of the paper. The French weekly Paris Match published a ten-page interview with Coste and included photographs of the prince holding and feeding the child and another of the prince on the cover of the magazine showing him holding Alexandre in his arms. Coste also said in her interview with Paris Match that she is presently living in the prince's Paris apartment, has been receiving an allowance from the prince, and has been pretending to be the girlfriend of one of his friends in order to maintain the couple's privacy. She also said that the prince had last seen his purported son in February 2005. A spokesman for Prince Albert had no comment, though upon news of Coste's claims, the prince's lawyer, Thierry Lacoste, announced that "A judicial strategy will be determined within the next few days."
In mid May 2005, Lacoste announced that as a result of the international publicity over the revelations of the prince's son, Prince Albert is suing the Daily Mail, Bunde, and Paris Match for delving too deeply into his private life.
Succession Issues
The fact that Prince Albert had never married or fathered a known or acknowledged child became a matter of public and political concern in recent years, casting doubts on the succession and the continued independence of Monaco. On April 2, 2002, a legal solution was formulated: Monaco passed Princely Law 1.249 which provides that if a reigning prince dies without any surviving legitimate direct descendants, the throne would pass to his siblings and their descendants under the rule of male-preference primogeniture. Before this change, the crown of Monaco could only pass to a direct male descendant of the reigning prince, making Prince Albert's sisters ineligible to inherit the throne upon his death, if he remained childless. This change made the extinction of the Grimaldi dynasty less likely. (This issue did not arise in Prince Rainier's case, since he succeeded his maternal grandfather - not an uncle.)
His elder sister HRH Caroline, Princess of Hanover, follows him as heiress presumptive in the line of succession to the Monegasque throne. Though she is only the heiress-presumptive and not -apparent, in the Monegasque constitution, the title Hereditary Prince (or Princess) is not reserved for heirs-apparent. Thus, Caroline is Hereditary Princess of Monaco.
Titles
Albert has held two positions from birth:
As Prince, his official shortened title is His Most Serene Highness Albert II, Sovereign Prince of Monaco; this does not include the many other hereditary titles acquired by the Grimaldi family (see Sovereign Prince of Monaco for a complete list of titles).
References
Template:Note "Madame Figaro", 1994; reported in Daily Mail, August 13, 1994, page 17. Template:Note "Riverside Press-Enterprise", March 13, 1993, page BO2 Template:Note "Bea in His Bonnet," "Daily Telegraph", July 29, 1987. Also "Sunday Mirror", March 8, 1998, pages 1+
External links