Air France-KLM
From Academic Kids
Missing image
AFKLM.png
Air France-KLM Logo




Missing image
Airfrance.a320.arp.750pix.jpg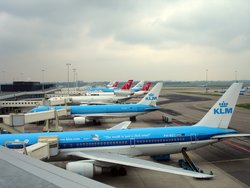 Air France-KLM Template:NYSE is an airline company incorporated under French law and with its headquarters at Roissy-Charles de Gaulle Airport near Paris. It is the largest airline company in the world in terms of total operating revenues, and the third-largest in the world (largest in Europe) in terms of passengers-kilometers. Air France-KLM was created by the May 5, 2004 merger between Air France and the Netherlands based KLM (in fact a peaceful take-over of KLM by Air France). Its CEO is Jean-Cyril Spinetta, formerly CEO of Air France.
Private shareholders own 56% of the new company (37% owned by former Air France shareholders and 21% owned by former KLM shareholders), while the French government owns the remaining 44%. In other words, 81% of the company is in French hands, while 19% is in Dutch hands. As a result of the deal, the French government's share of Air France has been reduced from 54.4 per cent (of former Air France) to 44 per cent (of current Air France-KLM). The merger has thus resulted, in effect, in the privatization of Air France.
Both Air France and KLM continue to operate flights under their distinct brand names, being both subsidiaries of Air France-KLM. This situation may change in the future.
In the year ending March 31, 2005, the total operating revenues of Air France-KLM amounted to 19.08 billion euros (US$23.98 billion), with a net profit of 351 million euros (US$441 million), a net profit increase of 20.2% compared to the previous year.[1] (http://www.airfrance.com/double6/home.nsf/(lookuppublishedweb)/Y1-PublishedmarketY1en?Opendocument) Air France-KLM is one of the most profitable companies in Europe, in sharp contrast with American airline companies which are still experiencing great difficulties in the wake of the September 11, 2001 terrorist attacks. For comparisons, American Airlines, the second largest airline in the world in terms of operating revenues, had total operating revenues of US$18.64 billion in 2004, with a net loss of US$761 million.[2] (http://www.aa.com/content/images/amrcorp/amrcorp2004ar.pdf)
As of March 2005, Air France-KLM was operating 554 aircrafts. At the time of the merger in May 2004, Air France and KLM combined offered flights to 225 destinations in the world. In the year ending March 21, 2003, the two companies combined transported 66.3 million passengers.
Air France-KLM operations rely on two major airline hubs: Charles de Gaulle International Airport (Roissy-Charles de Gaulle) near Paris and Schiphol Airport near Amsterdam.
External links