Air Berlin
From Academic Kids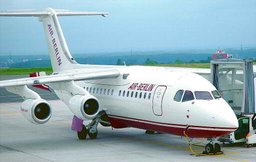 Air Berlin is a major low cost scheduled airline based in Germany and operating from a range of German airports. The airline carried over 12 million passengers in 2004.
Code Data
History
The airline began in July 1978 as an American company named "AIR BERLIN USA" flying services out of West-Berlin. Only airlines belonging to the World War II Allies were allowed to fly from Berlin until German reunification in October 1990.
Initial charter flights began in 1979 with a Boeing 707 to Palma de Mallorca. Even today, the so called Majorca Shuttle to Germany's favorite holiday island is one of Air Berlin's busiest routes. Air Berlin is also the biggest airline on Majorca. Palma de Mallorca is also used a hub were about a dozen flights from / to Germany meet once or twice a day, connecting to destinations in the Iberian Peninsula.
After German reunification in 1990, German investors took over the majority of shares and the airline was registered under German law and renamed "AIR BERLIN". Holiday charter flights, which previously were restricted to Berlin, were now flown from other German airports, including Mönchengladbach, Düsseldorf, Dortmund, Bremen, Münster, Nürnberg and Hamburg. Due to airline derugularisation in the European Union these flights are now operated as scheduled flights. The airline started scheduled flights to European business capitals, such as London, Zurich, Vienna and Barcelona, in the late 1990s using some of its aircraft for these so called "City Shuttles" in the early morning / late evening and using these same aircraft to serve popular tourist destinations during the middle of the day.
By the end of 1981 the fleet had been changed to the Boeing 737. In 2003, the whole fleet consisted of this aircraft type, with some model -400, mostly model -800, and 3 leased BAe 146 aircraft. Air Berlin also became Germany's second largest airline after Lufthansa.
In January 2004, Air Berlin announced cooperation with former F1 driver Niki Lauda's newly founded airline Niki. The two airlines considered their cooperation a "low fares alliance". Air Berlin now holds 24 percent on Lauda's enterprise. In November 2004 Air Berlin and its Austrian partner Fly Niki announced the joint purchase of 110 Airbus A320s. A firm order for 70 aircraft has been placed, 60 of which will be delivered to Air Berlin and 10 to FlyNiki. They have an option to purchase a further 40 aircraft. Delivery of the planes is expected to start in September 2005.
Services
For a full list of destinations served by Air Berlin, see Air Berlin destinations.
The Majorca Shuttle offers daily flights from Berlin-Tegel, Dortmund, Düsseldorf, Frankfurt/Main, Hamburg, Hanover, Cologne/Bonn, Munich, Münster/Osnabrück, Nuremberg, Paderborn/Lippstadt and Stuttgart to Palma
The City Shuttle links ten German airports with major cities including London, Vienna, Zurich, Milan, Rome, Madrid, Barcelona and Budapest
In January 2005 it was announced that the City Shuttle and Majorca Shuttle would be brought together and rebranded Euro Shuttle (also being adopted by FlyNiki)
Flights to the United Kingdom include (at February 2005):
Berlin, Düsseldorf, Hamburg and Paderborn to Manchester
Paderborn to Southampton
Berlin-Tegel, Düsseldorf, Hanover, Leipzig/Halle, Münster-Osnabrück, Nuremberg, Paderborn and Palma de Mallorca to London-Stansted
Fleet
The Air Berlin fleet consists of the following aircraft (at April 2004):
External Links
de:Air Berlin fr:Air Berlin nl:Air Berlin