Agusan del Norte
From Academic Kids
Agusan del Norte is a province of the Philippines located in the Caraga region in Mindanao. Its capital is Butuan City and borders Surigao del Norte to the north, Surigao del Sur to the east, Agusan del Sur to the south, and Misamis Oriental to the west. It faces Butuan Bay, part of the Bohol Sea, to the northwest.
REPUBLIC OF THE PHILIPPINES
Province of Agusan del Norte
Missing image
Ph_seal_agusandelnorte.png
Image:Ph_seal_agusandelnorte.png


Founded:
Population:
2000 census—552,849 (47th largest)
Density—213 per km² (39th highest)
Area: 2,590 km² (28th smallest)
Languages:
Governor: Ma. Angelica Rosedell M. Amante (2004-2007)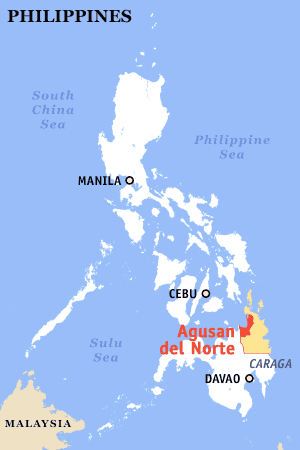 People and Culture
Economy
Geography
Political
Agusan del Norte is subdivided into 11 municipalities and 1 city.
City
Municipalities
Physical
History
Created by Republic Act 4979 from Agusan province.
External links
The Official Website of the Provincial Government of Agusan del Norte
ja:アグサン・デル・ノルテ州